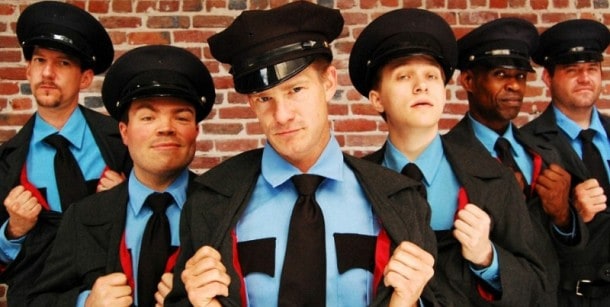 The Full Monty is a more thoughtful examination of how masculine self-worth is inextricably tied to economic self-sufficiency than one might expect from a musical with a titillating title that suggests something more frivolous than profound.
The reversal of roles that takes place, with the women in the lives of several of the male principals taking on a more dominant position, exposes the hubris and folly of traditional male thinking – and at first blush smacks somewhat of man-bashing.
But, as the story progresses, the male ability to adapt and overcome adversity through bonding and team effort is given the recognition it's due – and even celebrated.
The male cast is exemplary in their ability to portray a believable working class sensibility, and their female counterparts are equally strong. Kudos to lead actor Joshua Fryvecind (as Jerry Lukowski), who imbues a blue-collar persona with a sympathetic core, and whose assured vocalizations are reminiscent of Don Henley.
Mr. Fryvecind is given strong support by the entire troupe, including C.J. Dion (Dave Bukatinsky), Helen Laroche (Georgia Bukatinksy), Leslie Waggoner (Pam Lukowski), and David Mister (Malcolm MacGregor). And scene-stealing, comedic turns by Cami Thompson (Jeanette Burmeister) and Wendell H. Wilson ("Horse") serve the show well.
While the songs may be less than memorable, they are effective and enhanced by some exceptional singing, truly imaginative choreography by Mary Kalita (with the delightful "Michael Jordan's Ball" scene among her many highlights), and by the invaluable contributions of musical director Ben Prince and his band of talented musicians.
Another solid entry from the talented folks at Ray of Light Theatre Company.