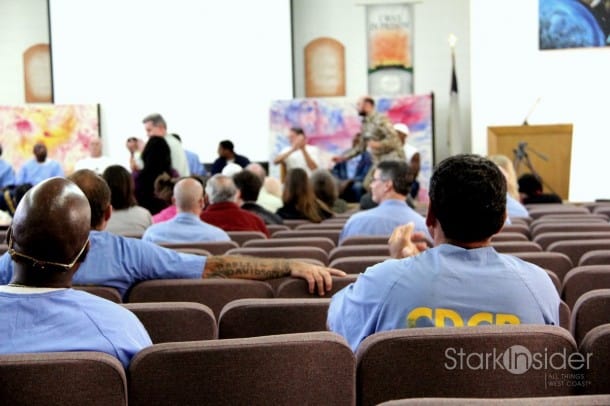 On June 15, inmates at San Quentin State Prison will have the rare opportunity to see fifteen of their peers performing in Shakespeare's tragedy Hamlet, considered by some to be the greatest and most complex play ever written.
Hamlet will be played by Luke Padgett who is serving a life sentence for robbery, arson and murder.
Organizers tell us the inmates, under the direction of Marin Shakespeare Company's Lesley Schisgall Currier and Suraya Keating, have been studying the play, creating characters, learning lines, practicing fight choreography, and preparing for the performance for the past 10 months. The lead role of Hamlet will be undertaken by inmate Luke Padgett, who has appeared in previous Shakespeare at San Quentin productions as Malvolio, Lysander, Mercutio and Don Pedro, among other roles. Padgett is serving a life sentence for robbery, arson and murder.
The Marin Shakespeare Company, which performs at Dominican University's Forest Meadows Amphitheatre each summer, added the Shakespeare program at San Quentin to their array of education programs nine years ago. The teachers who have worked with the inmates have found the men eager to learn.
WATCH: San Quentin inmates perform Shakespeare
Keating, who also teaches for Marin Shakespeare Company in public schools and summer Shakespeare camps, has a Masters degree in art therapy and experience working with incarcerated youth. For the past three years, the program has also involved Drama Therapy students, who have interned with Keating and participated in the productions.
"Shakespeare gives inmates the opportunity to learn to communicate in new ways, to practice conflict resolution, to develop empathy, and teamwork skills. In addition, the men are expanding their vocabularies, learning about poetry, and enjoying classic literature," said Currier. "Shakespeare has been transformational for many of the men who participate, building confidence and communication skills."
"I welcome the opportunity to lead the actors into a deeper exploration of Shakespeare's characters and stories. The men are hungry for Shakespeare," Keating said.
"Shakespeare actors are role models within the San Quentin community, demonstrating that even behind bars men can continue to set goals, learn new skills, and become better human beings. Shakespeare at San Quentin is just one more way Marin Shakespeare Company is bringing Shakespeare into the lives of a variety of people," Currier added.
Later this year, the Shakespeare at San Quentin group will perform a Parallel Play, a series of autobiographical stories inspired by the themes in Hamlet. The men chose the themes of love, betrayal and prison of the mind as their inspiration.