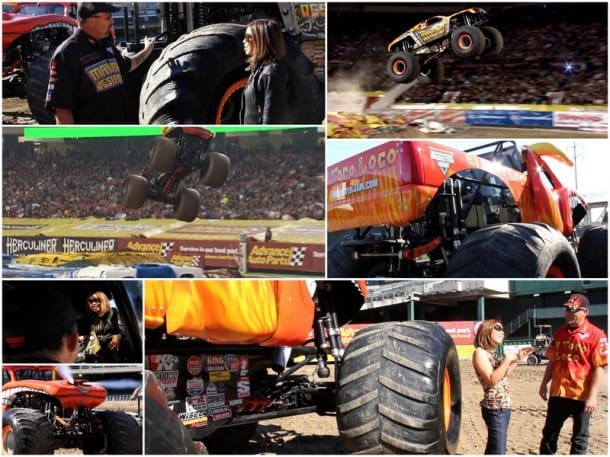 How exactly does a 1,400 horsepower monster truck compare to a Toyota Prius? Find out as Loni heads over to Oakland Coliseum (O.co) in this special Monster-sized edition of Stark Insider TV.
Watch our "the little chihuahua" attempts to climb aboard Tom Meents' "Maximum Destruction" (Max D.), a wicked beast driven by Neill Elliott, now seen touring across the country, entertaining large crowds of up to 60,000 people. It's been said Neill is a graduate of Tom Meents School of Monster Truck Driving – which is to say, it's full throttle, all the time. In fact, as you'll learn here, he's rolled Max D. several times. Find out in this video what he's installed in the cockpit to help him maintain his orientation.
Other drivers were on hand at the Monster Jam warm-ups, and Team Stark met up with other drivers to give you a first hand look at life at the wheel of a monster.
"I'd have to say it's all the interaction with the kids, all the fans. The look on their faces. They look at you like a superhero." explains Chuck Werner, "El Toro Loco" (the truck with the golden tooth and blazing red/orange paint job!), on his favorite part of being a driver. "And all I am is an ordinary guy with an extraordinary job."
There's no shortage of technology used to get these trucks flying through the air. Neill shows Loni some of the latest innovations used in Max D. including the four wheel system, the dual shock/coil spring set-up, and, of course, the massive 66-inch tall tires.
Oh, and that Prius comparison and mpg?! When it comes to fuel efficiency, Neil explains, "it's gallons to the mile." Then again, this is Maximum Destruction and monster-sized entertainment – you're not likely to see one of these trucks in the California car pool lane anytime soon.
WATCH: Inside Monster Truck "Maximum Destruction"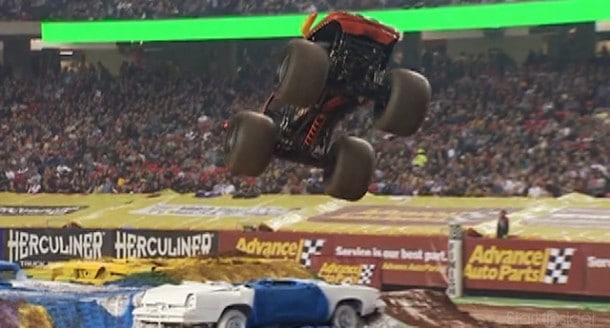 (With Clinton Stark contributing)