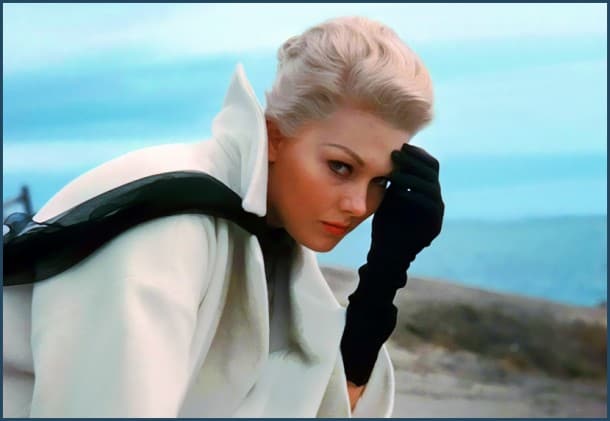 The San Francisco Museum and Historical Society announced today that a collection of paintings by Kim Novak titled Life Is But a Dream will be shown at the Old Mint June 16–24. This is the first time Novak has shown her work anywhere.
Novak's paintings will be a key exhibit in a larger exhibition titled The Stuff That Dreams Are Made Of: San Francisco and the Movies, which highlights the movies and the filmmakers that have made our city one of the world's unique film capitals.
In addition Novak will be the recipient of the San Francisco Cinematic Icon Award Thursday, June 14 at the Old Mint at Standing Ovations, a gala event to benefit the Society. She will be interviewed onstage by Turner Classic Movies host Ben Mankiewicz.
Novak has created unforgettable characters in such films as Vertigo, Picnic, The Man with the Golden Arm and Bell Book and Candle. She rocketed to stardom as a young woman and quickly became a filmic icon, featured on the cover of Time magazine at the age of 24. Now she has turned to a more intimate form of self-expression, creating a series of very personal looks at the world around her.
"San Francisco has always been my favorite city of all time," says Kim Novak. "I was privileged to feel a part of this magical place in two films — Pal Joey with Frank Sinatra and Alfred Hitchcock's Vertigo. What an honor it will be to receive this special award from San Francisco. It will be like coming home again!"
No one better fits the description of a San Francisco Cinematic Icon than Kim Novak. Her performance in what is considered by many critics to be the greatest film ever,Vertigo, has forever identified her with the city.
It was always Novak's dream to become an artist. She received a scholarship to the prestigious Chicago Art Institute as a teen. But just before she was to follow through with her studies at the Institute, fate intervened and she was discovered by a talent agent from Columbia Pictures in Hollywood.
"My style of painting is the result of striving for the marriage of impressionism and expressionism," says Novak. "I have always been influenced by life as it exists around me—touched by my past, the world of make believe—and concerned with what affects life today and how it might infect life tomorrow. Through the use of symbolism I have found a way to vent life's frustrations and experience the freedom of self-expression. This is the ultimate reward that comes to the visual artist."
In regard to the techniques she employs, Novak says, "I love the serendipitous effects one gets by combining water colors under paintings with pastels. However, I enjoy using all mediums."
Having lived with mental illness in her family, as well as in herself, she found the importance of using art as a means of overcoming depression …she would paint late into the night even before she was diagnosed as Bipolar and able to receive treatment and medication.
Novak has never stopped painting, and now lives in Oregon, where she devotes most all of her time to art. She is now hoping through this exhibit in San Francisco to find a way to connect with the best people in the art world that might share her interest in wanting to help with her cause. Perhaps through a gallery and the proper organization they can find a way to raise funds and introduce a program of art to those in need of help in mental health…..so far this is just her dream for 2013, but, "this is the stuff dreams are made of."