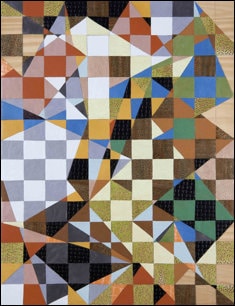 Art is an essential component of living a full life. It provokes us to see things afresh, exalts our senses and connects us to each other and the world in which we live. 
Opening May 25, 2012 at Fouladi Projects and on view through July 14th, "YI, DOS, DREI, FOUR" is an exhibition featuring new works by internationally recognized artists Omar Chacon, Lisa Chou, Ati Maier and Jose Sarinana
The show celebrates the diverse heritages of the four artists, (Omar was born in Colombia, Lisa in Taiwan, Ati in Germany and Jose in Mexico) and illustrates what has brought them together as collaborators and friends; a curiosity for culture, a love for vibrant color, and an exploration of materials.
As participating artist Omar Chacon reflects, in mixing his paint he is telling the soulful story of the "sancocho", a traditional Colombian stew, which he equates with the artistic collision of histories melding together in an orgiastic fashion. The works on exhibit are each vital ingredients for a vibrant visual feast, and a means through which the artists add their own unique yet complimentary flavor to the mix.
Featured works include Chacon's masterful candy colored acrylic paintings, both on paper and on canvas; Chou's new leather collages on wood, inspired by the random miscellany of visual elements she encounters traveling through her current NYC home; Maier's new ink on paper paintings and 3-d animated video that continue her exploration into fantastical cosmic landscapes, and Sarinana's most recent multi-media absurdist assemblages, which he creates when he isn't making spring rolls.