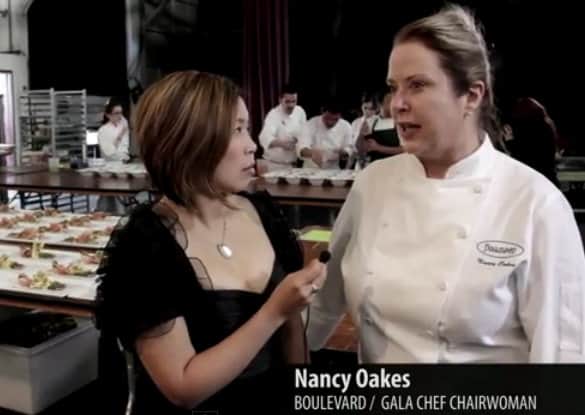 Congratulations to Chef Nancy Oakes, and her team at Boulevard in San Francisco. Last night at a ceremony at the Lincoln Center, she received the James Beard Foundation award for outstanding restaurant, or – as the Chronicle's Paolo Lucchesi keenly refers to it – the "equivalent of the Oscar for best picture."
Opened in 1993, the French-influenced Boulevard has become one of the most revered culinary destinations in the city. Says Oakes, "We don't think for a minute that we've invented a new cuisine or discovered a new approach to cooking-only a never ending quest for what's delicious."
Many of you likely also recognize Chef Oakes for her timeless service and contributions to the non-profit cause, Meals on Wheels of San Francisco (behind-the scenes tour with yours truly).
For several years she has chaired the annual gala which raises funds to help homebound seniors across San Francisco. I've had the good fortune to interview her several times, and you can see in this video below how generous she is with her time, even amidst the massive commotion in the gigantic gala kitchen at Fort Mason where other chefs – Chris Cosentino (Incanto), Matthew Accarrino (SPQR), Tanya Holland (Brown Sugar Kitchen), among many others – so generously donate their time.
Here's some footage from a recent Star Chefs gala. I make the rounds and also spend time talking with Nancy Oakes, the Gala Chairwoman extraordinaire. Please try to ignore the "Black Swan" references from a certain "director" (camera person) who will go unnamed.
Bon appetite!
Stark Insider TV: Chef Nancy Oakes