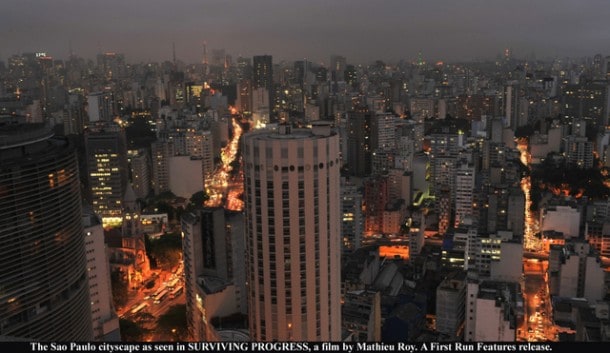 Surviving Progress, a cautionary tale of evolution opens April 20, 2012, at Landmark's Lumiere Theatre in San Francisco, and Landmark's Shattuck Cinemas in Berkeley.
Technological advancement, economic development, population increase – are they signs of a thriving society? Or too much of a good thing?
Based on Ronald Wright's best-seller "A Short History of Progress," the documentary by Mathieu Roy and Harold Crooks explores the concept of progress in our modern world, guiding us through detailed survey of the major "progress traps" facing our civilization in the arenas of technology, economics, consumption, and the environment.
Featuring arguments from such visionaries as Jane Goodall, Margaret Atwood, Stephen Hawking, Craig Venter, Robert Wright, Marina Silva, Michael Hudson, and Ronald Wright himself, the film invites us to contemplate the progress traps that destroyed past civilizations and that lie treacherously embedded in our own.
Leading critics of Wall Street, cognitive psychologists, and ecologists lay bare the consequences of progress-as-usual as the film travels around the world – from a burgeoning China to the disappearing rainforests of Brazil to a chimp research lab in New Iberia, Louisiana – to construct a shocking overview of the way our global economic system is eating away at our planet's resources and shackling entire populations with poverty.
Director and co-writer Mathieu Roy is a Montreal-based filmmaker. His first feature documentary, François Girard en Trois Actes, was awarded the 2005 prix Gémeau for best cultural documentary. Mathieu's latest documentary, Ecclestone's Formula, is the first project to tell the story of Formula One supremo Bernie Ecclestone. Co-director and co-writer Harold Crooks is an author and writer/producer whose award-winning documentary film credits include The Corporation; Karsh Is History; Pax Americana and the Weaponization of Space; and The World Is Watching.