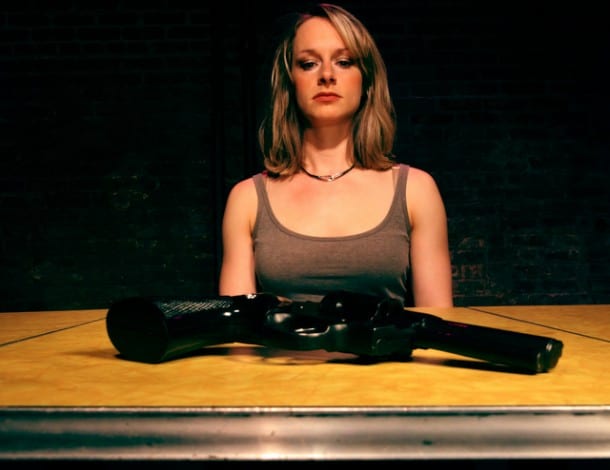 With a radical artistic shift away from last year's trilogy of poetic fantasy plays, Sleepwalkers Theatre surprises yet again with their next full production – the twisted, gritty revenge story Down to This by Adam Chanzit.
The first of two plays by Mr. Chanzit to be presented by local theatres late this spring, Down to This presents an intriguing stylistic contrast to The Great Divide premiering two weeks later at Shotgun, giving Bay Area audiences an awesome opportunity to appreciate this up and coming playwright's accomplished range.
Blending terror and absurd hilarity, the play packs a pulpy punch: Maria's .38 special and a game of chance will decide who lives and dies one sunny morning in a quiet mountain town. As more characters unexpectedly stumble in, a series of increasingly intense reversals unfold until an explosive and wild ending. Or rather, endings.
Pushing the theme of gambling with fate to the extreme, Down to This uses an actual moment of chance to determine which of two drastically different endings will be performed live on any given night.
How will it end for you?
Wanting to give the audience an opportunity to get the full potential of the piece, Sleepwalkers Theatre has made theatregoers an offer: Test your luck for the chance to see the alternate ending, by attending a second performance for half off.
Directed by founding artistic director Tore Ingersoll – Thorp and starring Kendra Lee Oberhauser, Derek Fischer, Tonya Narvaez, Jomar Tagatac and  Shane Rhoades, Down To This plays Thursdays through Saturdays May 3
Sleepwalkers Theatre was founded in 2007 by  Tore Ingersoll-Thorp, Damian Lanahan-Kalish, and John Rosenberg who "had just been in a  really really bad production of Hamlet and wanted to make something their friends would actually like."