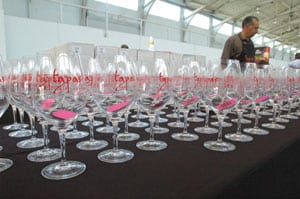 For the fifth year, the Tempranillo Advocates, Producers and Amigos Society (TAPAS) is hosting the most extensive annual tasting of domestically-produced Tempranillos, Albariños, Garnachas, Verdelhos, and many more, from the wine regions of the western United States.
Grapes native to the Iberian Peninsula produce some of the hottest-selling wines on the market right now, but not many people know that there are excellent and unique domestic versions being grown, too.
Trade and consumers will have the unique opportunity to taste wines produced by TAPAS members in a casual walk-around setting where they can chat with the growers and producers. Many TAPAS members are limited-production, family-owned wineries and will be pouring small lot wines that are not widely available.
America's interest in Spanish wine grapes surged 25 years ago with the dawning of what TAPAS' first President, Earl Jones, calls the "Golden Age of Spanish Food and Wine." In 1986 Robert Parker rated the 1982 Pesquera highly, comparing Alejandro Fernández wine from the Ribera Del Duero with Chateau Petrus. Such words from Robert Parker about a wine made in a remote region from an obscure grape excited growers and producers the world over.
This year the event will be held at the Fort Mason Festival Pavilion on Saturday, June 9, 2012.
TAPAS Grand Wine Tasting – June 9, 2012

1:00 – 2:00 p.m. – Trade/Media Tasting.

2:00 – 5:00 p.m. – Consumer Tasting. Tickets are $65 at the door, or $45 in advance.
TAPAS Member Wineries

Abacela Vineyards and Winery, Roseburg, OR
Alamosa Wine Cellars, Bend, TX
Baiocchi Wines & Vineyards, Fair Play, CA
Barreto Cellars, Paso Robles, CA
Berryessa Gap Vineyards, Winters, CA
Bodega de Edgar, San Luis Obispo, CA
Bodega del Sur Winery, Murphys, CA
Bodegas Paso Robles, Paso Robles, CA
Boeger Winery, Placerville, CA
Bokisch Vineyards, Victor, CA
Bonny Doon Vineyard, Santa Cruz, CA
Bray Vineyards, Plymouth, CA
Brennan Vineyards, Comanche, TX
Brian Carter Cellars, Woodinville, WA
Brushy Creek Vineyards, Alvord, TX
Callaghan Vineyards, Elgin, AZ
Camaraderie Cellars, Port Angeles, WA
Canelo Hills Vineyard & Winery, Sonoita, AZ
Castoro Cellars, Templeton, CA
Cave B Estate Winery, Quincy, WA
Clayhouse Wines, Paso Robles, CA
Clos du Bois, Geyserville, CA
Coral Mustang Wines, Healdsburg, CA
Core Wine Company, Santa Maria, CA
D'Alfonso-Curran Wines, Lompoc, CA
Dancing Coyote Wines, Rio Vista, CA
Delfino Vineyards, Roseburg, OR
Derby Wine Estates, Paso Robles, CA
Dos Cabezas WineWorks, Sonoita, AZ
Duarte Georgetown, Modesto, CA
Dubost Winery, Paso Robles, CA
Fall Creek Vineyards, Tow, TX
Fenestra Winery, Livermore, CA
Ficklin Vineyards, Madera, CA
Folin Cellars, Gold Hill, OR
Forlorn Hope Wines, Napa, CA
Grace Patriot Wines, Placerville, CA
Gramercy Cellars, Walla Walla, WA
Grizzly Republic Wines, Paso Robles, CA
Haak Vineyards & Winery, Santa Fe, TX
Harney Lane Winery, Lodi, CA
Hovey Wine, Murphys, CA
Irwin Family Vineyards, Napa, CA
Jarvis, Napa, CA
Jeremy Wine Company, Lodi, CA
Kenneth Volk Vineyards, Santa Maria, CA
Lange Winery, Dundee, OR
Lone Oak Winery, Burleson, TX
Longoria Wines, Los Olivos, CA
Mahoney Vineyards, Napa, CA
Masia de Yabar Winery, Temecula, CA
Metate Hill Vineyards, Murphys, CA
Odisea Wine Company, Danville, CA
Paradise Vineyard, Sonoma, CA
Parador Cellars, Napa, CA
PasoPort Wine Company, Templeton, CA
Pedernales Cellars, Stonewall, TX
Pomum Cellars, Woodinville, WA
Quinta Cruz, Felton, CA
Raimondo Family Winery, Gamaliel, AR
Red Lily Vineyards, Jacksonville, OR
Reustle Prayer Rock Vineyards, Roseburg, OR
Reverie Winery, Calistoga, CA
Riaza Wines, Acampo, CA
Ripken Vineyards & Winery, Lodi, CA
Roxy Ann Winery, Medford, OR
Sand-Reckoner Vineyards, Willcox, AZ
Six Sigma Winery, Lower Lake, CA
St. Amant Winery, Lodi, CA
Starr Ranch, Paso Robles, CA
Stein Family Wines, Napa, CA
Stottle Winery, Lacey, WA
Tejada Vineyard Company, El Cerrito, CA
Tesouro Port Cellars, St. Helena, CA
Texas Hills Vineyard, Johnson City, TX
Trenza & Tangent Wineries, San Luis Obispo, CA
Truchard Vineyards, Napa, CA
Turkovich Family Wines, Winters, CA
Twisted Oak Winery, Vallecito, CA
Urbanite Cellars, San Francisco, CA
Valley View Winery, Jacksonville, OR
Verdad Wine Cellars, Los Olivos, CA
Viader Vineyards & Winery, Deer Park, CA
Vina Castellano, Auburn, CA
Vina Salida, Rainier, WA
WCP Cellars, Paso Robles, CA
Yorba Wines, Napa, CA