Shreveport, and its next door nabe, Bossier City, is often referred to as "Louisiana's Other Side" but after a recent fun-filled Mardi-Gras press trip, where I slurped, sucked, shucked, peeled and finger-licked my way through both towns, I'd say its food scene is "Sunny-Side Up".
I admit I didn't expect to find sophisticated gourmet fare here but the Wine Country Bistro proved me oh-so-wrong. This bistro could hold it's own against any upscale restaurant in rarified Napa. However, if you're looking for a more authentic Cajun culinary experience there is no shortage of off-the-beaten-track, down-home eateries slinging massive buckets of tongue-numbing, spiced crawfish, steaming bowls of seafood gumbo and some of the best Po-boys you've ever wrapped your hands around.
Here are some of my fave food experiences (well worth the extra five pounds I put on):
Cake fit for a King
King Cake: A Mardi Gras tradition, king cake is a circle of rich brioche pastry, filled with a flavored cream, iced and topped with purple, green, and yellow (the colors represent justice, faith and power) sugar sprinkles.  A tiny plastic baby-doll (symbol of the Christ Child) is placed in the cake and the custom is that the person who finds it hosts next year's party.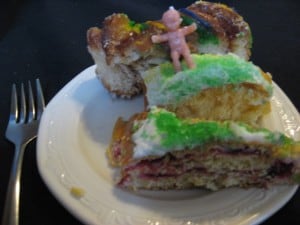 Two popular spots to pick up a cake are:
Lilah's Deli & Bakery, named after owner Sopan Tike's adorable daughter, is located in a quaint old building in Shreveport's historic district.
Their cakes are available in 18 flavors ranging from Apple to "Zulu" including a popular Peanut Butter and Chocolate version. They even offer sugar-free and gluten-free versions. All their King Cakes come with a printed history, Mardi Gras beads, and a plastic baby for you to insert into the cake.
Tip: To hold you over until you cut the cake, try a bowl of their amazingly airy King Cake bread pudding.
Ok…it's no big stretch of the imagination to learn that you can buy a yummy King Cake at a bakery, but at a hardware store???? During Mardi Gras season, Tubbs Hardware & Cajun Gifts sell approximately 7,000 X-treme King Cakes. Owner Don Tubbs, named his cakes X-treme due to the extreme amount of quality filling in each one and guarantees them to be the "Best King Cake on the Planet." (Praline is the #1 selling flavor.)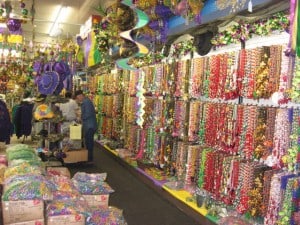 Tubbs offers one-stop shopping for all your Mardi Gras needs: millions of beaded necklaces (this year's big seller was "Good Girls Gone Wild"), gorgeous feather masks, and opulent party decorations. I stocked up at the wall of hot sauces, since it was too hard to choose between the "Ass-kickin', Butt-rub and Da' Bomb" brands.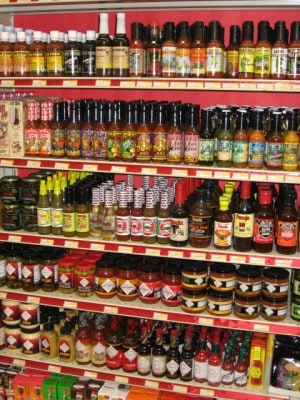 Tip: If you should need one, they'll be happy to sell you a tractor for hauling everything home.
Food fit for a Queen
Wine Country Bistro's casually elegant decor, hospitable, professional staff, and impeccably prepared food make this Shreveport's top date-night spot. Depending on your mood you can choose to dine in the softly lit dining room, or the lively wine bar, but if the weather's nice, head out to the spacious patio. Thein-house Wine & Spirits shop offer well-priced selections from around the world to pair with your dinner or if you'd like to try something more unique just ask Kelly, their hipster bartender, what she recommends.  (Perhaps her latest cocktail creation, which she named the "Tequila Mockingbird"). Everything our group of ten ordered from the locally- sourced, seasonal menu was well-received but the standouts were: the Artisanal Cheese board (a still-life beauty) the Wine Country Wedge (iceberg topped with apple smoked bacon, fried green tomatoes, and grilled red onions) Lump Crab Cake (braised tomatoes with a basil-tarragon butter) and the Low Country Shrimp n' Grits, which was so rich and creamy that we unabashedly used our bread to sop up every last buttery drop.
Funky & Fantastic:
Kim's Seafood & Po-Boy – If you want fancy, move on (because we're talking one step below no-frills) but if you're looking for fantastic fried seafood (catfish, oyster, tilapia, etc..) or arguably, the best shrimp Po-boy in town (stuffed with more shrimp in it than the bun can begin to hold) then you've hit the jack-pot at Kim's. Thrill seekers can go wild and try the fried (tastes-like-chicken) alligator Po-Boy, the crawfish eggroll, or the hot-as-Hades (in a spicy, good way) bucket of boiled crawfish. Kim's is owned by a hard-working Asian couple (he was formerly a shrimp boat captain and then opened a restaurant in New Orleans which was blown to bits by Katrina ) so no worries about the freshness of  any shell-fish selection you'll get here.
Fertitta's Deli in Shreveport began life in the hood back in 1927 as an Italian grocery store, with "Papa" Sam Fertitta and the family living upstairs. One day Papa got the munchies and chopped up a delectable olive mixture, which he heaped on top of a cold cut sandwich and thus created Shreveport's version of the muffuletta, the "Muffy". Word has it (straight from his daughter, Agatha, who now owns Fertitta's) that when Papa changed the business over from the grocery store to the deli, he came up with "Muffy" only because it was too expensive to spell out Muffaletta on the neon sign.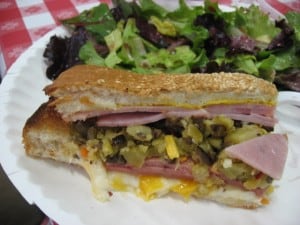 Muffy's come in two sizes with a variety of fillings and are made with just the right ratio of toasted sesame seed bun to overstuffed fillings topped with a dollop of "Papa Fertitta's Famous Olive Mix". Be sure to wash it down with their refreshing mint-sweet tea.
Funky and not so fantastic
When we pulled up to the legendary Herby K's I saw a ramshackle shack (the restrooms were outside in the alley) surrounded by a bunch of other dilapidated buildings, which gave me high hopes of tasting some real Cajun soul food. The place was packed and we got the last table in the newish addition, a covered patio wing. About an hour later, I left, scratching my head in amazement over how it ever achieved such fame. I really wanted to like the place but after eating a ho-hum crab salad, followed by an inedible greasy chicken & sausage gumbo and an absolutely tasteless crawfish etouffee, I was not a fan. In all fairness, I did not try their famous shrimp buster, but it looked rather chintzy (partic after Kim's) with just a few, steam-rollered-flat fried shrimp on squishy white bread.
Mardi Gras Parade Breakfast
Columbia Café is in a rambling old house located in the heart of Highland, which is a very cool, eclectic nabe where millionaires can be found living next door to welfare folks.
Owner Matthew Linn fell for this condemned bungalow in the late 90's, bought it for a song and then spent about a million dollars and eight years of blood, sweat and tears turning the house into a cozy café filled with antiques, local art and good coffee smells.
We visited the morning of the big Highland Mardi Gras parade, so things were a little hectic since Matthew is also "Mister President" of the Highland Krewe, and had about a billion last minute things to do to get ready. But he graciously sat us down and served us a  proper parade brunch of coffee spiked with Bailey's and a yummy carton filled with grits and grillades (a tastes-so-much-better-than-it-looks concoction of beef smothered with tomatoes, onions and peppers) which he said would set up a nice base for all the drinking to come. Definitely worth a repeat visit.
Two distinctive places to pig-out: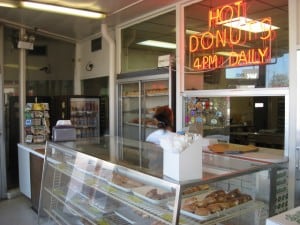 Southern Maid Donuts – Elvis did the only product commercial of his life on November 6, 1954, for Southern Maid Donuts, in Shreveport, Louisiana, which I guess says it all. If you're a glazed donut lover you know these suckers literally melt in your mouth– if you eat them fresh out of the oven. So make sure you follow Elvis' catchy (?) radio jingle, "You can get them piping hot after 4PM, you can get them piping hot, Southern Maid Donuts hits the spot, you can get them piping hot after 4PM."
Gulf Pig Underground Dinner Club – How cool is it that Shreveport now has a secret supper club, thanks to Chef Michael O'Boyle? When he and his wife of ten years started their family, they looked at who brought home the most bacon (his wife) and decided to have Michael pull a Mrs. Doubtfire and he became a stay-at-home dad. He turned into a complete food channel junky and taught himself how to cook, testing his daily creations (often developing his own molecular gastronomy techniques) on his happy wife. Michael decided to spread his culinary wings by taking over local restaurants on their day off and serving secret suppers featuring his "Contemporary Southern" cuisine. The crowd went nuts.
We enjoyed our amazing meal packed around his dining room table. (His wife and kids had to go hang out at the neighbors so we could all fit.) The best way to describe Michael's cooking is that he takes a traditional dish, breaks down the flavors and spins his own riff. For example, the southern classic dish, BBQ pork, corn bread, and greens morphed into Coca-cola braised pork belly and griddled corn bread topped with shards of deep-fried collard greens. Totally divine.
To get on his email list for upcoming events (and trust me, any foodie worth his weight in crawfish needs to be on it) go to the Gulf Pig website.
But if I was on death row for my final dinner I'd pick:
Marilynn's Place – I absolutely loved this 7 month old resto converted from an old Texaco gas station. It was the first time I scarfed down my whole meal without once reaching for the S&P or hot sauce. This Cajun/Creole restaurant features food that is "organic when feasible, local when possible"  and it's down-right scrumptious.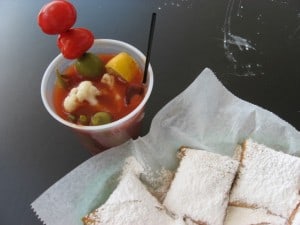 Although we were just there for Sunday brunch (mostly to refuel our engines at the make-you-own-Bloody-Mary bar and try their powdered Beignets) somehow we ended up sampling their shrimp and grits, biscuits and gravy, red beans and rice and chicken & andouille jambalya. Every dish was perfectly seasoned with just the right amount of spicy kick. Then I saw a monstrous, luscious looking Po-boy being delivered to the next table, which after nosing in, I discovered it was the Hurricane Katrina Burger Po-Boy that the menu describes as "Big, messy & unpredictable with all the options you can fit into a FEMA trailer" .
So next time you're planning a Mardi Gras trip to Louisiana, c'mon over to "the other side". You and your stomach will be happy you did.
When you go the best place to stay is the:
Hilton Hotel Shreveport– primo location in downtown's Riverfront district yet just 10 minutes from the airport (with complimentary shuttle service). Comfy beds, free internet, and lots of southern hospitality. The top-notch fitness center shares city views with their rooftop outdoor heated pool.