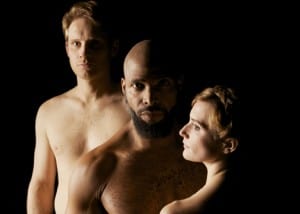 Marin Theatre Company's Artistic Director Jasson Minadakis and Producing Director Ryan Rilette announced the company's 2012-13 season today.
Featuring six productions in MTC's intimate 231-seat Boyer Theatre, the season includes co-produced regional premieres of Circle Mirror Transformation by Annie Baker and The Whipping Man by Matthew Lopez, revivals of award-winning contemporary plays by Suzan-Lori Parks and Martin McDonagh, the modern classic Waiting for Godot by Samuel Beckett and a stage adaptation of Frank Capra's beloved film It's a Wonderful Life. Based in Mill Valley, MTC is a 46-year old professional nonprofit theater, a destination for live performances that are intimately personal, emotionally powerful and thoughtfully engrossing.
"I am delighted to announce our extraordinary 2012-13 season," Artistic Director Jasson Minadakis said.
MTC opens its 2012-13 season in August with the regional premiere of Annie Baker's Circle Mirror Transformation, in a co-production with the Encore Theatre Company of San Francisco. This is the second of four plays that Baker has set in the fictional college town of Shirley, Vermont, including Body Awareness, which Aurora Theatre Company in Berkeley closed on March 11 after an extended run, and The Aliens, which SF Playhouse opens on March 20.
The 2002 Pulitzer Prize-winning drama Topdog/Underdog by Suzan-Lori Parks returns to the Bay Area in September for its first locally produced staging. The play delves into the lives of brothers Lincoln and Booth – two black men trapped by their poverty, race, family history and their ominously prophetic given names.
Over the holiday season, MTC produces It's a Wonderful Life: A Live Radio Play, adapted for stage from Frank Capra's 1946 cinematic classic by Joe Landry.
MTC begins 2013 with Waiting for Godot by Samuel Beckett. In the classic absurdist play, Didi and Gogo dally by the side of the road, expecting the imminent arrival of another man. They've asked this man for nothing definite, but eagerly anticipate his reply. Though, they admit, they don't know him well and won't even recognize him when they see him, they wait. They wait for Godot.
Also directed by Minadakis, The Whipping Man by Matthew Lopez premieres regionally in March. To mark Passover, two emancipated slaves share an improvised Seder with their former owner's son, a Confederate officer who has been wounded during the final days of the Civil War. The three Jewish men discover that, though they are no longer tied by ownership, they remain tied by faith, history and explosive secrets.
MTC closes its 2012-13 season with The Beauty Queen of Leenane by Martin McDonagh. Middle-aged, unmarried and embittered, Maureen is locked in a stalemate with her elderly mother Mag, who is as selfish as she is manipulative. Their simmering relationship will boil over when Maureen takes a lover and finds hope for escape.
Marin Theatre Company 2012-13 Season

August 2–26, 2012

Co-production with Encore Theatre Company

Circle Mirror Transformation | Bay Area premiere

By Annie Baker | Directed by Kip Fagan

Opening night: Tuesday, August 7

September 27–October 21, 2012

Topdog/Underdog

By Suzan-Lori Parks | Director TBA

Opening night: Tuesday, October 2

November 23–December 16, 2012

It's a Wonderful Life: A Live Radio Play

Adapted by Joe Landry | Directed by Jon Tracy

Opening night: Tuesday, November 27

January 24–February 17, 2013

Waiting for Godot

By Samuel Beckett | Directed by Jasson Minadakis

Opening night: Tuesday, January 29

March 28–April 21, 2013

Co-production with Virginia Stage Company

The Whipping Man | Bay Area premiere

By Matthew Lopez | Directed by Jasson Minadakis

Opening night: Tuesday, April 2

May 23–June 16, 2013

The Beauty Queen of Leenane

By Martin McDonagh | Directed by Ryan Rilette

Opening night: Tuesday, May 28