"This is the beginning of opening up this new frontier."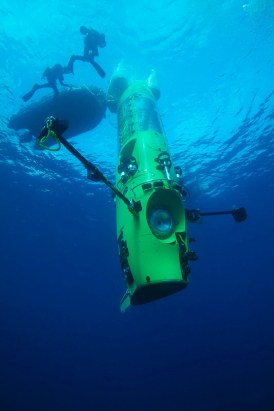 Uber director James Cameron is the first solo diver to reach the Pacific Ocean's Mariana Trench. 52 years earlier "Trieste" — a swiss-made sub manned by two — successfully touched down, but only for 20 minutes.
The temperature at the ocean floor was 36F and the pressure outside his one man diving machine called Deepsea Challenger (a "vertical torpedo" with the coolest lime green paint job you ever did see) was several thousand pounds per square inch.
Can you imagine making that descent… alone?
Into the depths…
If you placed Mt. Everest on the ocean floor at Mariana Trench, there'd still be 1.5 miles from its peak to the ocean surface.
… into the blackness.
Here are some of the amazing photos that were released by the team which included Cameron and members from National Geographic. Several 3-D cameras were onboard, among other tech whizbang, so expect incredible multi-media to follow.
In Photos: James Cameron's solo deep dive