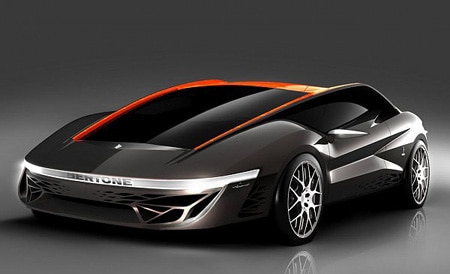 Mark you calendars for Monterey Car Week (August) if you're up for some Italian eye candy. Bertone announced it plans to celebrate 100 years of design by featuring 'The Cars of Bertone' as the centerpiece for the August event in Monterey.
Of significant interest for auto aficionados will likely be the Nuccio supercar. Unveiled at Geneva with huge fanfare (and named after the founder's son), the mid-engine concept features a  483hp 4.3-liter V-8 engine.
In an unusual design choice, the high tech car's floors and door panels are made out of old, pockmarked wood recovered from recycled pilings that used to sit underwater beneath the lagoon of Venice.
Bertone famously designed the Lamborghini Miura in the 1960s, an iconic, low profile exotic that established the Italian house as a force. Over the years other manufacturers have commissioned Bertone for designs including Ferrari, Maserati, Alfa Romeo, Fiat, Lancia, Iso, Aston Martin, BMW, and Jaguar, among others.
Bertone has a long history with Concorso Italiano that dates back 18 years to 1994 when the Lancia Zero was presented on stage with several other concepts.
Bertone's most significant designs for Italian production cars

Lancia: Stratos

Maserati: Khamsin

Ferrari: Dino 308 GT4

Fiat: X1/9, 850 Spider, Dino Coupé

Alfa Romeo: Giulietta Sprint, Giulietta SS, Montreal, GT

Lamborghini: Miura, Countach, Urracco, Silhouette, Espada, Jarama

Lamborghini Miura in the Swiss Transport Museum, Luzern, Switzerland. (Photo: Andrew Bossi)