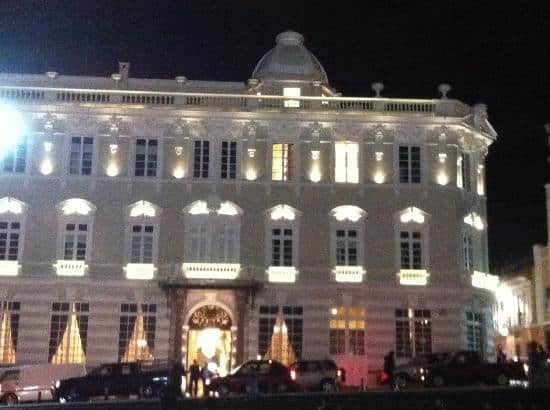 I can't remember the last time I was so enthralled with a hotel.  It was love at first glimpse of  Casa Gangotena, a newly restored historic mansion overlooking Plaza San Francisco.  My feelings deepened  the moment I entered my elegant, sun-drenched room that offered a captivating view of El Pancillo Hill, topped by a statue of a winged Virgin Mary, protector of the Old City below.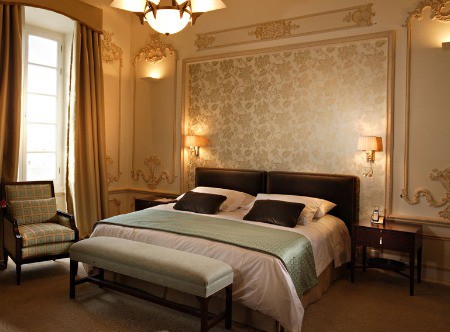 Each of the 31 rooms is unique, but they all feature Art Deco-style furniture with pleasing postmodern accents, generous picture windows, towering ceilings, spacious marble bathrooms and complimentary Wi-Fi.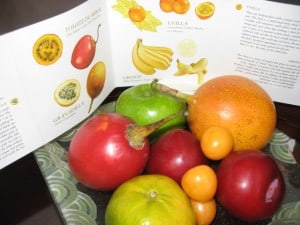 Since the way to this woman's heart is through my stomach, it also didn't hurt that next to a gracious welcome note, from Fernando Delago, the hotel's congenial GM, was a big bowl of exotic Ecuadorian fruit complete with an informative pamphlet that described the proper way to eat each fruit. This was just one of numerous ways that the whole staff went out of their way to make you feel genuinely welcome and at home.
I met with Fernando (a charming fellow foodie with quite a sophisticated palate) to get his suggestions on how I could best spend the following day exploring Quito's culinary scene. Without missing a beat, he quickly arranged the itinerary below which turned out to be absolutely perfect.
9:00
Buffet breakfast in the dining room. (Check out the newly-commissioned ceiling mural by local artist Lucía Falconí. Unlike Michelangeo, she really did paint it while lying on her back) When I was asked if I wanted to "watch tv", it meant that they opened the curtains for a fascinating view of everyday life in the plaza. I judiciously took small tastes from the table filled with fresh fruits, yogurt, and pastries (all good) indulging instead in many cups of the strong Ecudaorian coffee, knowing that I had some serious eating in store the rest of the day.
10:00
I joined Casa Gangotena´s enthusiastic Sous Chef, David Barriga, for a fascinating tour of the public market. After patiently answering my zillion questions, he bought me one of each of the exotic (to me) fruits to sample. No one seemed to mind as I peeled, sucked and then spit the seeds out on the floor, of a Sweet Grandilla- which is related to the passion fruit. Other  fruit faves were the Tomate de Arbol (sweet tree tomatoes with only 40 calories) Uvilla ( darling lil' one-bite sweet & sour berries) and Mora (Andean blackberries that often turn up in a scrumptious Helado de Paila (fruit sorbet).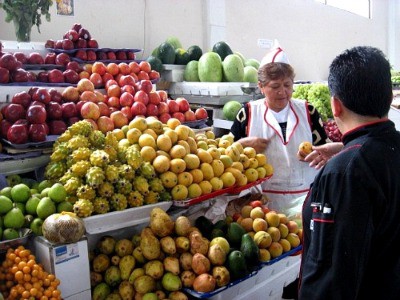 Heading back to the hotel, Chef David took me down a side street to a flour mill owned by Francisco Calvopina and his twin brother. For four generations the family has offered over a dozen varieties of fresh ground specialty flours such as corn, barley and plantain. Francisco is a wealth of info and is happy to share his recipes-but only in Spanish!

1:00
After indulging in an incredible 4 course lunch (loved the upscale "deconstruction" version of a popular street food "Mote con Chicharrón" consisting of fried pork, corn tortillas and potatoes). For our hands-on dessert I had the pleasure of meeting, Santiago Peralta, the co-owner of Pacari Chocolate. He and his wife founded the company about 10 years ago and are proud to offer the first single-origin 100% organic chocolate made in entirely in Ecuador. They partner with small cacao farmers to produce a line of fairly traded, sustainable chocolates. Santiago guided me in an eye-opening tasting of these premium bean-to-bar chocolates ranging from around 60 to 90% cacao. Discerning choco-lovers will be blown away by the distinctive flavor of the minimally processed Pacari's Raw Chocolate bar.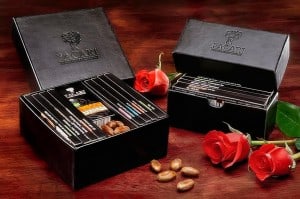 5:00
Oops, I almost forgot, first she spit on the herbs three times and gestured to me to do the same, which I did trying to keep a straight face
Time for my introductory Limpia (Energy equlibrium restoration).
There was nothing more incongruous than opening the door of my luxury suite to greet Mama Rosa, a smiling, indigenous woman who barely reached my belly button. She was wearing a bright red apron and carrying a huge black plastic garbage bag filled with medicinal herbs and flowers. Since mama didn't speak any English it had been explained to me she would be administering my limpia, which is a spiritual cleansing that would rid my body, mind and soul of any evil spirits and negativity. After such a fun-filled day I certainly wasn't harboring any negative thoughts but I was fighting a cold so I thought it would be worth a try.
Mama sweetly reached up and took my hand, led me into the gleaming marble bathroom, stripped me down to nothing and then reached into her black bag for the first of many rubber-banded bundles of herbs she used for my rub down. Oops, I almost forgot, first she spit on the herbs three times and gestured to me to do the same, which I did trying to keep a straight face. Little did I know that this first bunch included some dried nettles with which she proceed to slap my body with….OUCH!!!! That not only got rid of some evil spirits but a top layer of skin. Things greatly improved as we progressed to the rose petals rubdown. Now this was more like it. Somewhere along the way there was a raw egg which she rolled over my body to absorb any remaining negativity. The bathroom was completely destroyed by a layer of crushed herbs, broken branches and dead petals covering everything. Unperturbed, Mama Rosa took out one last bunch, which she used as a broom to sweep up every last thing, gave me a little hug and left. I'm not sure if she banished all my evil spirits, but at least I never did get that cold.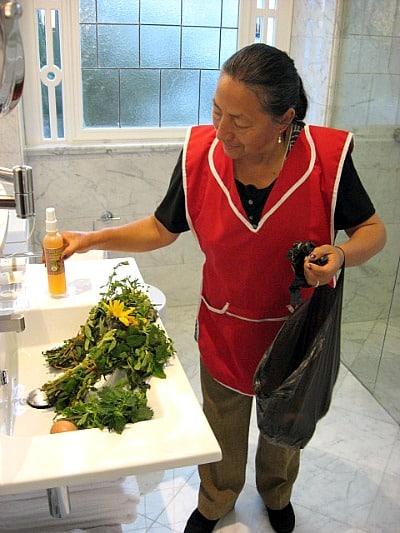 7:30
I was actually getting hungry again for whatever in Spanish passes for the "pièce de résistance" a special Casa Gangotena tasting dinner. The meal showcased the masterful talents of Executive Chef Andrés Dávila's, that can best be described as a celebration of traditional Ecuadorean dishes, utilizing the finest local ingredients, with just a pinch of contemporary tweaking.
The dinner started with a tantalizing taste-bud trio of ceviche. Other standouts included succulent braised pork, followed by a fantastic cuy (guinea pig) preparation. I'd always had it served stuffed before and previously I was never much of a g.p. fan, but Chef Andrés version was light, crispy, and flavorful…and it really did taste a bit like chicken.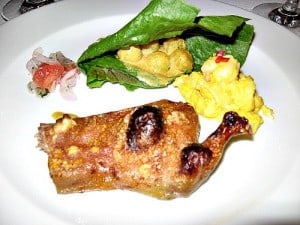 11:00
I was tired, happy, immaculately clean and ready for bed. Sadly, I was too full to partake of the plate of bedtime sweeties that were left on my nightstand. Well, maybe just a little nibble of the alfajor.
Note: With a little advance notice, the incredibly well-trained, hospitable front desk staff will be more than happy to arrange any of the above activities, as well as a cooking class.
When you go:

Casa Gangotena-Bolivar 541 y Cuenca, esq., Quito, Ecuador casagangotena.com

Rooms start at $ 425 a night, including breakfast and Quito-style afternoon coffee