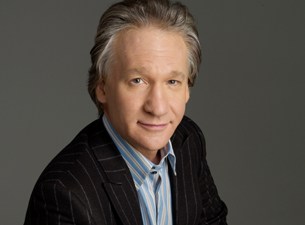 Bill Maher brings his new tour, CrazyStupidPolitics, through Silicon Valley with a performance tonight at the San Jose Center for the Performing Arts.
Maher will not only entertain an in-person audience, but also a virtual one watching via the web. Yahoo will be hosting the event on its Yahoo! Screen Live, the first installment of a standup series. As far as we know this is the first time a live standup show of this scale has been streamed live. According to the Facebook RSVP page, as of this writing over 22,000 plan to "attend" the live stream.
Maher is known for his political satire and sociopolitical commentary, which targets a wide swath of topics including: religion, politics, bureaucracies of many kinds, political correctness, the mass media, greed among people and persons in positions of high political and social power, and the lack of intellectual curiosity of the electorate.
One of the most widely recognized faces on television, he is a frequent commentator on various cable news networks, namely CNN, MSNBC, and HLN. Maher has regularly appeared on CNN's The Situation Room with Wolf Blitzer and has also been a frequent guest on MSNBC's Hardball with Chris Matthews, The Rachel Maddow Show and Countdown with Keith Olbermann.
Did I mention 2012 is an election year…? Fodder, anyone?