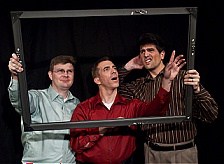 Short-take of Art, now playing at Northside Theatre, downtown San Jose.
This wonderful production of Yasmina Reza's perceptive, Tony Award-winning post-modern comedy on the nature of friendship is beautifully realized by all concerned.
Director Angie Higgins' smart, brisk staging is given full effect by the pitch-perfect timing of the estimable trio of talented actors who exemplify masculine heterogeneity and bonding among the bourgeoisie. (John Rutski, Tom Shamrell, and Christian Pizzirani)
The monochromatic, alabaster set design (Richard T. Orlando) provides a contrasting  (and very fitting) backdrop that successfully underscores the emotional, albeit often hilarious, pyrotechnics that ensue.
Northside's production of Art is a sly, inspired piece of accessible entertainment that never succumbs to the weight of its own profundity. Highly recommended.
Art

4 out of 5 stars (Smashing)

Northside Theatre Company
Directed by Angie Higgins
Olinder Theatre
February 9, 2012, thru March 4, 2012
Written by Yasmina Reza

www.northsidetheatre.com