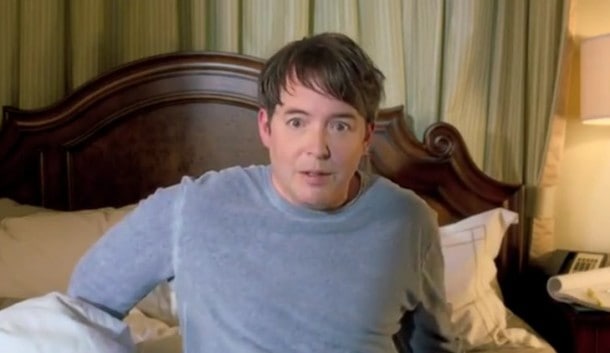 Okay, so here's the Honda Super Commercial that will run on Super Sunday. It's for the 2012 Honda CR-V, and features Matthew Broderick playing hooky just like his famous slacker self from the 1986 mega-hit Ferris Bueller's Day Off… only instead of calling in sick from school, he calls in sick from work.
It used to be you had to watch the Super Bowl to watch the Super Bowl ads. Even if you didn't like football, you'd try to watch the big game because everyone talks about the games come Monday. Sometimes, they'll even talk about the game itself. Ads though rule the roost, and I'm guessing get the Lion's share of headlines.
I'm not sure I'm so keen on taking a movie classic and tainting it with this consumer product at that seems not so funny.
According to their YouTube channel, this is "Honda's fresh twist and wonderful homage to this '80s classic."
Innocence lost
Is it just me or does this lack spark? I like Broderick. I like Ferris Bueller's Day Off. I guess I even like the Honda CR-V. But mixed together it doesn't quite yield the Super Commercial I was hoping for. Maybe the ad goes down better with a few Buds.
What do you think, am I wrong?
Watch: 2012 Honda CR-V Game Day Commercial – "Matthew's Day Off"
What YouTubers are saying

Does this make Broderick the new Shatner?

Okay. So I hate the fact that it's Honda. I hate that it feels 'sell-out'-esque.
But I love Ferris.
SO…. yeah.

It would have been better if the original players were involved…Cameron, Sloan, Ed Roney or the secretary and yes, Ben Stein should have been the valet!!! Still I love it anyway!

Good thing this came out before the Volkswagen commercial. Because no one will remember this one. WEAK!

I feel totally screwed with here. Honda made a lot of people believe that a sequel to Ferris Bueller was in the works, and it turns out to be a crummy commercial?! This does not endear me to Honda; rather it makes me never want to do business with them.