Follow along as Janice heads out on another luxurious Stark Insider getaway.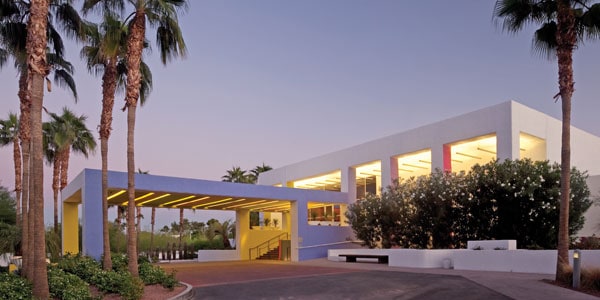 Back Story
This spot has been home to more hotels than you can count on both hands. The Mondrian was one of the last incarnations which I hear was all attitude and not much else. Emerging like a butterfly from its cocoon, The Saguaro could not be more different. I don't know if it's all the cheerful, bright splashes of color throughout the property or simply that the Joie De Vivre prides itself on a well –trained, hospitable staff, but I can't remember the last time I stayed at such a happy hotel. Both the staff and the guests walk around with big smiles on their faces.
One example of their hospitality: When my BFF and I were dying for some ice-cream late at night, she went in search of a score, which we thought would be "Mission Impossible" since the restaurant had closed. One darling server rustled around and proudly presented her with two cups overflowing with scoops of chocolate and vanilla ice-cream. When she  took out her wallet to pay him, he said with a big smile, "No charge." When she asked why, he said in a very Yoda-like tone, "Why not?"
Location
The Saguaro has a peachy location, perched on a quiet residential corner, but still just a block away from all the action of Old Town.
The Room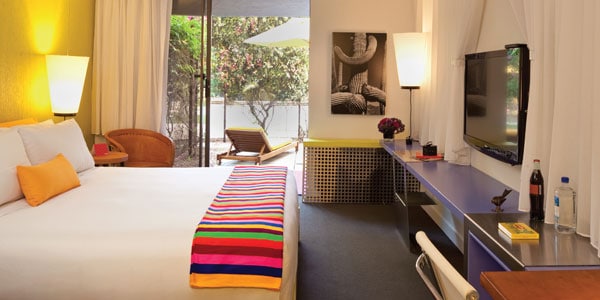 We faced the pool so it was bone quiet with no street noise. Everything was impeccably clean, bright and cheerful, although you can tell that the hotel isn't brand new, since there were little nicks here and there and a retro pop-corn ceiling. Welcome modern touches included the 42" inch flat screen tv, stereo with iPod docking station and On-demand movies and music.
We had the teeniest "patio" I've ever seen-you could barely stand on it-but it was nice to have the view and fresh air. We loved the exceedingly comfy beds where we wrapped up like burritos in the feather comforters for an excellent night's sleep.
Amenities
Kick back at either of the outdoor, heated pools beautifully landscaped with stately palms and tropical flowers. The larger, lap-pool is party central, but the more sedate "grown-up" pool provides the perfect spot for a late afternoon nap in the sun. We loved that there were plenty of chaises, sofas and cabanas to choose from and a the sprinkling of fire-pits were a welcome touch for chilly evenings.
The expansive new fitness center overlooks the pool area and offers all the latest equipment. For a real treat cross over to The Spa where you can choose from a long list of indigenous treatments such as a relaxing Saguaro Hot Stone massage redolent of sage and juniper, or spice things up with a stimulating Mexicano Body Wrap covering you in a blend of chilies and chocolates.
Food
Saving the best for last, we had an incredible dinner at their signature restaurant, Distrito, serving Chef Jose Garces modern Mexican cuisine. This young, James Beard Award winning chef had escaped my notice before dining here, but he's on my short-list to watch out for now. His food offers creative rifts on classic Southwestern cuisine with bold and spicy flavor profiles. The traditional Guacamole arrived gilded with welcome chunks of crab. The smoky chorizo vinaigrette raised the bar on an already tasty Cobb salad. And we almost came to blows over who got the last piece of the Calabaz Hurrache- a mesa flat bread topped with a savory/sweet concoction of butternut squash, manchego, arugula, topped with carmelized pepitas. Not to mention a tender adobe smoked brisket, luscious red snapper tacos, ceviche cleverly topped with a sangrita sorbet. We finished our absolutely perfect meal (a phrase I don't use often) with a bag of hot, cinnamon-y churros ready to dip in the accompanying dessert sauces. There menu offers both ala carte choices as well as a couple of prix-fixe chef tastings. I strongly recommend one of the tastings for an incredible array of fantastic food at exceedingly gentle prices.
We didn't get a chance to try Old Town Whiskey, a frontier saloon-style bar and eatery right off the lobby, but it looked like a fun spot offering over 100 varieties of whiskey, bourbon, rye and scotch.
Extra Credit
The place is super pet friendly, so you can bring Fido along for a little R & R while saving a bundle on boarding fees.
Insider Tip:

For a fun getaway idea be sure and check their website for a variety of imaginative packages such as "The No Brainer Romance Package" which offers the perfect way to get back into her good graces by including everything from  a dozen roses, bubble bath, and choco-covered strawberries, to a stack of Romantic Queue Cards for an exciting evening.