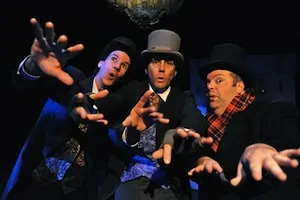 There are holiday traditions, and then again, there are holiday traditions.
San Jose Stage Company has resurrected a holiday tradition by presenting the return of Every Christmas Story Ever Told. The fast-moving, irreverent comedy, popular returns again this year on November 23 to The Stage for another round of extreme holiday cheer.
The play, by Michael Carleton, Jim FitzGerald and John K. Alvarez, is a fond and furious look at the holiday classics and traditions we all remember. From Frosty to Rudolph, from the Grinch to It's A Wonderful Life, no pop culture holiday icon is spared in this whirlwind of holiday merriment.
Directed by Artistic Director Randall King and featuring Kevin Blackton, Martin Rojas Dietrich and Will Springhorn Jr. Set Design by Richard C, Ortenblad, Light Design by Michael Walsh, Costume Design by Jean Cardinale and Sound Design by Sean A. Russell.
San Jose Stage Company is funded, in part, by a Cultural Affairs grant from the City of San Jose and Arts Council Silicon Valley, in partnership with the County of Santa Clara, the California Arts Council and Applied Materials Excellence in the Arts. San Jose Stage Company gratefully acknowledges support from The Wallace Alexander Gerbode Foundation, The William and Flora Hewlett Foundation, The Smart Family Foundation, Applied Materials Foundation and The Davidson Family Foundation and the many individuals, businesses and corporations whose contributions make great theatre possible.
The Stage is located at 490 South First Street at William Avenue in the SoFA area of downtown San Jose.