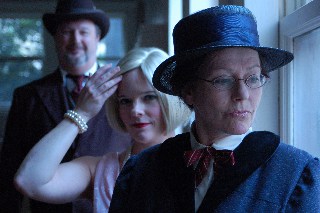 Becoming Julia Morgan returns to the Morgan-designed Berkeley City Club December 2, 2011 through January 8, 2012, following a sold-out run last year. The returning cast includes Janis Stevens (Julia Morgan), Dave Garrett  (William Randolph Hearst, Bernard Maybeck) and Sally Clawson (Marion Davies, Eliza Morgan, Phoebe Hearst). Ben Euphrat joins the cast as Jerry Mac, the SF Examiner reporter and Avery Morgan.
The production then moves to the Sausalito Woman's Club, a beautiful Morgan-designed Arts and Crafts style building, for a three-day run January 13, 14 and 15, 2012.
Noted Berkeley actor and director Barbara Oliver directs the ensemble cast, with Janis Stevens* reprising her award-winning role as Julia Morgan, which earned her a best actress "Elly" from the Sacramento Area Regional Theatre Association (SARTA) when the play had its debut in 2006 at California Stage. Playwright Belinda Taylor also won a SARTA award for best new script.
The Berkeley production garnered five Bay Area Theatre Critics Circle nominations, winning in the Best Ensemble category.
Becoming Julia Morgan follows the life of the Bay Area icon over a six-year period, 1931 to 1937, as she works on San Simeon, runs a busy San Francisco office with a large staff, and surmounts a medical crisis and her fear that she may have been too successful at keeping a low profile. There are flashbacks to her student days at UC Berkeley and at L'Ecole des Beaux-Arts in Paris, and a flash forward to today. Woven with wit, fast-paced and moving, Becoming Julia Morgan played to sold-out houses and drew rave reviews in both its Sacramento and Berkeley productions.
Background on Julia Morgan
Julia Morgan was born in 1872 (just seven years after the end of the Civil War), growing up in a large family in the burgeoning city of Oakland during the final decades of the Victorian era. A tiny woman with a big ambition–to become an architect when there were virtually no female role models to show the way– Morgan overcame the social barriers of her day to become California's first licensed woman architect. But first she had to battle her way into a centuries-old exclusive male bastion, the world famous School of Architecture at L'Ecole des Beaux-Arts in Paris. She used her design talent, her ability to listen to and integrate her clients' needs, and her extraordinary engineering skill to design and construct more than 700 buildings in her lifetime, including the magnificent Hearst Castle, now a national historic landmark.
Unlocking Julia's Secrets
In researching the play, Taylor discovered Julia Morgan does not give up her secrets easily. She was devoutly private. Taylor, herself a journalist for many years at the Oakland Tribune, identified with the fictional reporter in her play: "Jerry's efforts to get at the essential Julia Morgan – he wanted to write a book, I wanted to write a play – were constantly frustrated. But a gnawing fear that she had been too successful at staying out of the limelight motivates her to open up to Jerry, and in the writing of these scenes, I felt her opening up to me."
The play illuminates a tenacious will to succeed in a man's world. It shines a light on Morgan's bravery, fears, eccentricities, generosity and dedication to craftsmanship. Her success and the grace with which she lived her life serve to inspire us today, especially women and girls. The proof of her "confounding ability to conjure up beauty" is that we yearn to experience her buildings, be inside them, absorb the exciting visual elements and the harmony that are hallmarks of her artistry. Adds Taylor, "And we are eternally curious about this Sphinx-like genius."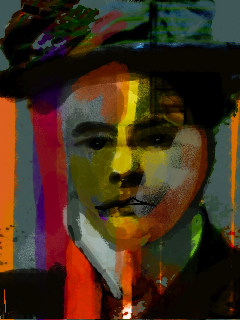 Becoming Julia Morgan was commissioned by Sabrina Klein in 2004 when she was executive director of The Julia Morgan Center for the Arts in Berkeley. The play was intended to be the highlight of the Julia Morgan Center's centenary celebration in 2008. During the writing process the play obtained a second commissioning theater – California Stage in Sacramento—and Klein subsequently departed from the Julia Morgan Center in 2006 to launch her consulting enterprise. The play premiered at California Stage and was never presented in the theatre for which it was originally written.
In 2010 Taylor and Klein concluded that the Julia Morgan-designed Berkeley City Club was the ideal venue for a Bay Area premiere, with its intimate theatre space. Lending impetus to that decision, the City Club was formerly home to the Aurora Theater, founded by Barbara Oliver and a group of supporters. Oliver committed to directing Becoming Julia Morgan. Klein stepped into the role of producer, and acclaimed actress Janis Stevens, agreed to reprise her award- winning role from the Sacramento production.
Taylor, Klein, Oliver and Stevens constitute The Julia Morgan Project, with fiscal sponsorship by the Playwrights Foundation and the support of private donations.
A Living History Foundation grant underwrote the playwright's multiple trips to the special Julia Morgan Collection at the Kennedy Library at Cal State Poly where hundreds of architectural drawings, photos and letters are archived. The Julia Morgan archives at UC Berkeley also proved a rich vein, as did published books, including Sara Holmes Boutelle's excellent Julia Morgan, Architect.
Becoming Julia Morgan

Award-winning play about the life and times of California's first woman architect. Written by Belinda Taylor, directed by Barbara Oliver, and starring Janis Stevens as Julia Morgan. December 2, 2011 thru January 8, 2012, Berkeley City Club, 2315 Durant Ave, Berkeley. Tickets: $35. Show times Thursday, Friday, Saturday at 8:00 p.m., Sunday at 5:00 p.m. Tickets at Brown Paper Tickets www.brownpapertickets.com or 800-838-3006. E-mail becomingjuliamorgan@gmail.com.

Sausalito Woman's Club, 120 Central Ave., Sausalito, CA 94965, runs January 13, 14 and 15, 2012. Tickets are $40, also available at Brown Paper Tickets. Shows Thurs & Fri 7:30 p.m., Sun 3:00 p.m.
[Photo: Benjamin Privitt]