The Calistoga Winegrowers (CWG) recently installed its first board of directors and is ready to collectively market the relatively new Calistoga American Viticultural Area (AVA) growing region.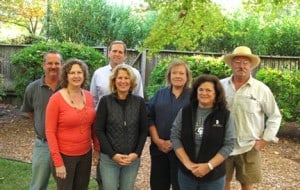 The federal Alcohol and Tobacco Tax and Trade Bureau (TTB) designated Calistoga as a distinct AVA in December 2009. Famed Chateau Montelena Winery winemaker Bo Barrett wrote and filed the petition for the new AVA in September 2003 and made three lobbying trips to Washington, DC before the petition was finally approved six years later.
With this designation, Calistoga vintners and winegrowers have realized the time is ripe for raising awareness of the distinctive terroir (the combination of soil, climate and environment that gives an area's wine its distinctive character) represented by their shared grape-growing region and the quality of wine produced there.
Some of the same geologic factors that provide Calistoga with its trademark mud baths and spas, such as pure volcanic soil, also contribute to unique characteristics of its wine. Ranging from volcanic soil with cooler hillside climates, to flat and warmer pockets, Calistoga varies in its overall flavor profile. Diverse as the Calistoga region may be, it is known particularly for its intensity and "minerality."
The area is known for big reds like Cabernet Sauvignon, Zinfandel, Syrah, Petite Sirah and Bordeaux varietals, but you can also find Chardonnay, Sauvignon Blanc, Semillon, Muscat and unusual red varietals like Charbono.
"Folks were ready to celebrate Calistoga as a distinct AVA, and when the designation was finally granted, it provided the incentive for us to come together and speak with one voice about what makes our wines special," said Karen Cakebread, owner of Ziata Wines, a winery within the AVA.
For the past two years, several of the group's organizers have been working diligently to garner non-profit status for the organization, solicit members, obtain permits for installing signs at the appellation boundaries, and create a board of directors. Their efforts have recently come to fruition.
Members of the newly constituted board recently began meeting, and include:
Karen Cakebread, Ziata Wines (president)
Candi Czapleski, Canard Vineyards (vice-president)
Mark Mathewson, Sterling Vineyards
Barr Smith, Barlow Wines
Beth Summers, Summers Estate Wines (secretary)
Laura Zahtila Swanton, Zahtila Vineyards (treasurer)
Ace Yaksic, Joseph Cellars
Installation of the appellation signs is set to begin this fall thanks to the cooperation and donations of business and individuals excited about increasing the visibility of the AVA and CWG. Larkmead Winery, Summers Estate Wines, Stevens Vineyard, Dutch Henry Winery, and Bennett Lane Winery are sponsoring the signs and Silverado Ace Hardware is donating poles, concrete and hardware. Chateau Montelena Winery plans to assist with installation when harvest season winds down. Property owners agreeing to allow installation of signs on their property at the boundaries of the Calistoga AVA include: Tom and Kerry Eddy, Frank and Janie Cafferata, Laurie Ogorman, and Sterling Vineyards.
Next on the agenda for the organization is forming a marketing committee, creating a website, and developing a trade tasting event as well as a consumer event. In the meantime, the wineries plan to participate in Calistoga's Winter in the Wineries event and Auction Napa Valley. Winter in the Wineries provides a passport for 16 tastings at Calistoga AVA wineries from December 2, 2011 through February 3, 2012.