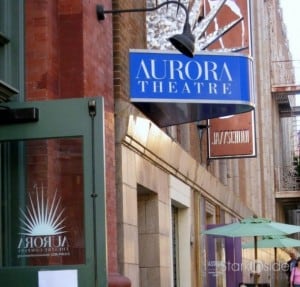 Berkeley's Aurora Theatre Company, along with GAP Producer M. Graham Smith and GAP Associate Producer Deborah Taylor, announced the four plays chosen as finalists by a committee of local directors for the seventh annual Global Age Project (GAP), the company's new works initiative that promotes the creation of forward-looking theater: The Hummingbirds by Garret Jon Groenveld; In a Word by Lauren Yee; Rasheeda Speaking by Joel Drake Johnson; and Ashes, Ashes by Kevin Christopher Snipes.
The selected GAP plays will be presented as staged readings in a four-week festival at the Aurora Theatre, Mondays, February 6-27, 7:30pm, coinciding with the company's fully-staged Bay Area Premiere of Obie Award-winning playwright Annie Baker's comedy Body Awareness (January 27-March 4), directed by Joy Carlin.
Each of the four finalists will receive a $1,000 award and their work will be considered for further development and production during Aurora Theatre Company's regular season; out of town artists will receive travel and accommodation expenses. Each GAP reading will be followed by an audience discussion of the contemporary issues raised in the work.
Aurora Theatre Company's Artistic Director Tom Ross states, "The seventh year of The Global Age Project was once again a year of surprises. We received over 250 script submissions with subject matters focused primarily on domestic issues within the United States, a reflection of what is currently happening in our streets and institutions. We are also pleased to welcome back two GAP alumni this year. Chicago playwright Joel Drake Johnson returns to the GAP for a third time with his new work Rasheeda Speaking. His plays The First Grade and A Guide for the Perplexed were GAP finalists, and The First Grade was the first GAP play that was developed and fully staged as part of the company's main stage season, where it received its World Premiere in 2010. Local playwright Garret Jon Groenveld also returns to the GAP with The Hummingbirds; his play The Serving Class was a GAP finalist for 2010. We are proud to have the opportunity to present these new works by Joel and Garret and are thrilled to welcome them both back to the Aurora."
The Global Age Project is a discovery and developmental vehicle established to encourage playwrights to address life in the 21st century and beyond. Seeking forward-thinking unproduced work from both established and emerging playwrights, the festival celebrates the diversity of perspectives, styles, voices, concerns, and stories that make up the world today, and provides a development opportunity for plays that directly respond to our complicated present and our possible future. Writers are encouraged to submit works that explore and/or examine the changing state of human relationships in this new century; plays need not be about science or technology. Submissions that transcend traditional forms of theater presentation are encouraged. 
2012 GAP FESTIVAL – AURORA THEATRE, BERKELEY

Monday, February 6, 2012

The Hummingbirds

By Garret Jon Groenveld (San Francisco, CA)
Directed by Evren Odcikin

 The Hummingbirds takes place in a possible near future, where unemployment, multiple wars, and domestic terrorism are just a bit worse than they are today. Not to mention that if you've been out of work for too long, a job is assigned to you. It may not be a job you are qualified to do, it may not be a job that's safe for anyone to do. But you have to do it. Absurd? Have you been listening to the Republican congress? A "comedy of menace," The Hummingbirds explores the world that might be if we continue to do nothing about creating meaningful work, continue to do nothing to change our rate of environmental destruction, and continue to deny the real root of war and domestic terrorism.

Garret Jon Groenveld is a noted poet and playwright living and working in the San Francisco Bay Area. His work has appeared on many stages from the Bay Area to New York and Amsterdam. He has been featured in the Bay Area Playwrights Festival and was a Writer in Residence with the Playwrights Foundation. In 2010, he was a GAP finalist for his play The Serving Class, and was a finalist for the Heideman Prize as part of the Humana Festival and the Actors Theatre of Louisville. He continues a long association with PlayGround, where he received the Emerging Playwrights Award six times and received three commissions for full-length plays. Additionally, Groenveld's plays have been seen at New Conservatory Theatre and Theatre Rhinoceros, and in the San Francisco Fringe Festival (2005 Winner Best Short Plays).

Monday, February 13, 2012

In a Word

By Lauren Yee (San Francisco/San Diego, CA)
Directed by Mina Morita

Two years have passed since Fiona's seven-year-old son mysteriously vanished. As Fiona goes back over the events she remembers leading up to that fateful day, logic buckles and language breaks. Will she ever uncover the truth? And what happens if she does? A lyrical, absurdist journey, In a Word examines how to get over, get around, and get through what haunts you.

Born and raised in San Francisco, Lauren Yee's work includes Ching Chong Chinaman; Crevice; Hookman; A Man, his Wife, and his Hat; and Samsara. She has been a Dramatists Guild fellow, a MacDowell fellow, and Public Theater EWG member, and was a finalist for the Heideman Award, the Jerome Fellowship, the PEN USA Literary Award, the PONY Fellowship, and the Wasserstein Prize. Ching Chong Chinaman was a finalist for the Princess Grace Award, with productions at Artists at Play and Impact Theatre. AlterTheater, the Bay Area Playwrights Festival, the O'Neill Studio at Yale, and PlayGround have previously commissioned her work; she is currently working on commissions for the Kennedy Center and La Jolla Playhouse/Moving Arts.

Monday, February 20, 2012

Rasheeda Speaking

By Joel Drake Johnson (Chicago, IL)

Directed by M. Graham Smith

A doctor, uncomfortable with his black receptionist, enlists the aid of his office manager to get rid of her. Dealing with the subtleties of the post-racial Obama age in which issues of race are handled with passive aggression, polite rejection, and insidious innuendo, Rasheeda Speaking addresses the new wall of suppressed discomfort, fear, and paranoia between different races and cultures that has emerged in the era of "Yes We Can."

Joel Drake Johnson is a member of Chicago's Victory Gardens Playwrights Ensemble, where his plays A Guide for the Perplexed, Four Places, Before My Eyes, and The End of the Tour were first produced. Steppenwolf Theatre produced his plays The Fall to Earth, A Blameless Life, and Tranquility Woods; his work has also been seen at Chicago Dramatists Theatre. Additionally, Johnson taught playwriting at Northwestern University and DePaul University. His work has been nominated four times for a Jefferson Award/Best New Work.

Monday, February 27, 2012

Ashes, Ashes

By Kevin Christopher Snipes (Queens, NY)
Directed by Rhonnie Washington

After a dinner party, Jeremy informs his wife, Emma, that her best friend's husband might have made a pass at him. Emma laughs off the idea but the next day, while apartment hunting with Margot, she brings up her husband's remark. Margot becomes indignant and vehemently denies that her husband, Paul, would ever make a pass at another man, even though he once had a brief romantic relationship with his college roommate. That night Margot repeats Jeremy's accusation to Paul, who is adamant in his denial. Margot, though, can't shake the feeling that her husband is hiding something. As further accusations of infidelity and betrayal explode, the two couples find themselves at each other's throats trying to sort truth from rumor and friend from foe.Ashes, Ashes explores our society's intense anxiety when it comes to issues of sexuality, and illuminates the need for a more tolerant discourse, examining the lengths to which people will go for categorical certainty, even when it means destroying their own happiness.

Kevin Christopher Snipes is the author of the plays A Bitter Taste; The Chimes; Beautiful World; Party Lights; Virgin Rock; andHip-Skidoo. His work has been performed at the Summer Play Festival (SPF), Ensemble Studio Theatre, Bailiwick Repertory, New York Stage & Film, Orlando Shakespeare, and Moving Arts. He is the recipient of a 2008 Artists Fellow in Playwriting/Screenwriting from the New York Foundation for the Arts, and an Alfred P. Sloan Screenwriting Fellowship. He is a member of the Public Theater's Emerging Writers Group and the Dramatists Guild.