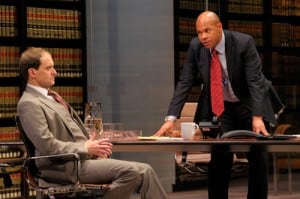 The legal system is about three things: hatred, fear, envy.
David Mamet's Race seeks to expose the true nature of the politics of race in this hot and fast-paced legal comedy that is about anything but the truth, so help me god.
Three lawyers, Henry Brown (Chris Butler), Jack Lawson (Anthony Fusco) and Susan (Susan Heyward) are entangled as the defense team for a wealthy rich white man, Charles Strickland (Kevin O'Rourke), who is accused of raping a young black woman.
The no-holds barred, witty verbal sparring that ensues is classic Mamet. In this production, plot is merely the backdrop to the rapid, sharp dialogue that challenges the boundaries of comfort and political correctness. I was delightfully uncomfortable one moment, and laughing the next. Chris Butler and Anthony Fusco exhibit superb timing during both confrontations and comedic quips. It was this element that truly made the entire piece enjoyable to watch, even if the plot was familiar.
Race is compact, yet complex. There is the truth of what happened, which from the onset becomes clear none of the characters are really interested in. There is the reality that the lawyers want to create for the jury, even twisting the words of a preacher to achieve it. And there is the personal contemplation of each character to rationalize these two perspectives that their own view of self. At times some of the characters fall into caricatures of their societal labels, but overall, the cast delivers authenticity.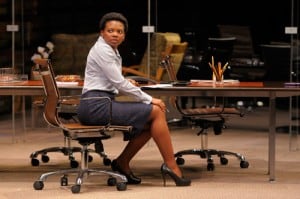 Although the issue of race headlines this production, race and how society and individuals choose to deal with it, is only one of the taboo topics at play. Throw in a bit of sex and age discrimination, a dash of offensive language and for an evening Mamet gives an entire audience reprieve from affirmative action. In the world of Race each character is shown to possess internal prejudices. Racism, and other "isms" do not just manifest themselves in conscious negative emotions and actions. Instead, Mamet shows prejudices to be at times trappings of the subconscious, resulting in overcompensation such as when Jack Lawson overlooks Susan's lie on her application possibly because she is a woman and black.
The stage set, though simple, is highly effective. The whole drama takes place in a law office which is depicted by two looming walls. One is filled with law books, the other a transparent stretch of glass. Behind the glass wall is the reception area of the law office. I thought it was quite clever to stage scenes in the background, behind the glass, to add visual interest instead of an opaque barrier.
Race down to ACT for a delightfully uncomfortable evening of Mamet. Comfort is so overrated.
SI Tech Spotting

Apple iPad, spotted on stage. It is a popular gadget pick among those we have interviewed here at Stark Insider, but this is the first time I noticed it on stage, in a "e-law office". Henry Brown (Chris Butler) is seen swiping through legal documents on the tablet. The legal team, though, still has to embrace an Amazon Kindle or Barnes & Noble Nook to help clear out all the books that line one wall. But then …what kind of stage set would we have then?
Race

American Conservatory Theater, San Francisco

4 out of 5 stars

By David Mamet
Directed by Irene Lewis
Through November 13
[Photos: Kevin Berne]