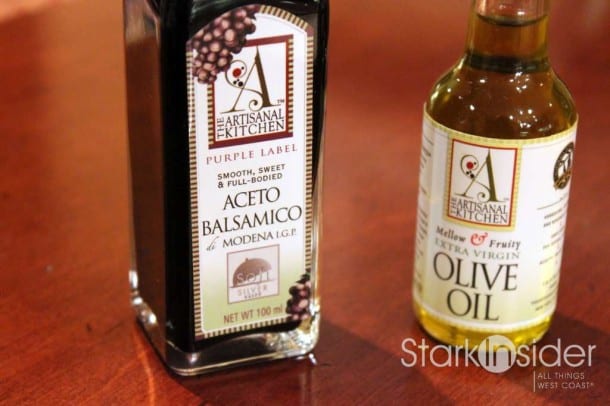 Balsamic vinegar, like wine, can vary greatly in its character, quality and price. Like the term "Champagne", the specific labeling of balsamic vinegar as "Aceto Balsamico Tradizionale di Modena" (Traditional Balsamic Vinegar of Modena) and "Aceto Balsamico Tradizionale di Reggio Emilia" (Traditional Balsamic Vinegar of Reggio Emilia) is protected and reserved for vinegars made from grape must from specific regions in Italy. True balsamic vinegar actually goes through a much more labor intensive process than wine, starting off with pressed Trebbiano and Lambrusco grapes which are then cradled in a series of seven barrels of smaller size and varying wood types for at least 12 years.
The result is a rich, deep brown, viscous, complex syrup that can be drizzled on salads, strawberries, figs and anything else that crosses your imagination which is worthy of such a treasure. For me, traditional balsamic vinegar is a luxurious treat. I used to think the vinegar was very expensive, until I thought about the labor and time that goes into the process. Wine, for example, is usually aged a maximum of 2 years with the most expensive process requiring new barrels. Balsamic vinegar created in the traditional fashion requires 6 times the number of years and 7 times the number of barrels. When all this is factored in, it seems quite a bargain.
Admittedly, one can not always indulge in the real McCoy. So, I hunt for the "everyday" balsamic vinegar. One that I can use on grilled meats and emulsify with a nice EVOO for a versatile salad dressing.
When The Artisanal Kitchen, based in New York, sent me their Acedto Balsamico di Modena (Purple Label) — recently named a 2011 SOFI Silver Finalist — I was intrigued.
Although there was no declaration of how long the balsamic vinegar had been aged for (which always gets me a little suspicious), on the back label, it does explain that Lambrusco and Trebbiano grapes were used, sourced from Modena, Italy. Okay, so we have at least the beginnings of ingredients used in the traditional method of making balsamic vinegar. The ingredients, though, listed wine vinegar, and not grape must, as the first ingredient. In general, I like to see grape must listed as the first ingredient, although it is not uncommon for commercial grade balsamic vinegar to list "vinegar" as its first ingredient.
With the inspection of the labels on the exterior, I was ready for a benchmark tasting against three other "everyday" balsamic vinegars I have here in my California kitchen.
The first is a Balsamic Vinegar of Modena which has been aged in casks of different woods for an unknown period of time. It has grape must listed as its first ingredient and red wine vinegar as its second, and has a designation of 4 leaves.
The second is a Balsamic Vinegar of Modena that has been aged for ten years in oak barrels. This balsamic vinegar, like the one produced by The Artisanal Kitchen lists wine vinegar as its first ingredient and grape must as the second.
The third is a Classic Balsamic Vinegar imported from Italy and bottled in Mendocino, California. It has been aged for 18 years and for the price point and quality, it is at the upper end of what I classify as an "everyday" vinegar.
How did The Artisanal Kitchen's balsamic vinegar compare?
It was most comparable to the 10 year veingar in taste and viscosity. It had less sugar content than the 18 year bottle which could be nice in salads and appetizers such as seafood where you don't want the vinegar to overpower the sweetness of the seafood or the savory elements of a smoked meat. It also had one of the smoothest finish, surprisingly less tart than the benchmark bottles.
Does it make it into my California Kitchen?
At $14.99 for a 500 ml bottle, it is at a reasonable price point for the grade of "commercial" balsamic vinegar that it is. I could see The Artisanal Kitchen being a strong contender for a spot in my everyday balsamic vinegar collection. Alas, I question the use of "caramel color" in the ingredients list. It is not listed as an ingredient in any of my other bottles of balsamic vinegar, and I am not sure it would really be needed. In the end, this minor point in the competitive world of balsamic vinegars tips the scale and this vinegar slips short of making my California Kitchen pantry shortlist.