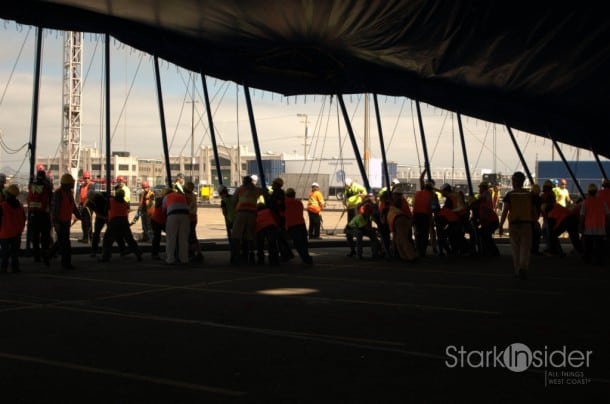 The Cirque is in town! No, that's not the latest set for a Lady Gaga video- those trademark blue-and-yellow accents you've likely spotted in San Francisco would be the Grand Chapiteau next to AT&T Park.
Crew have busy setting up the massive tent for Cirque du Soleil's latest touring show, Totem. The production, which explores the evolution of mankind, opens this Friday. We have the amazing behind-the-scenes photos plus a video of the set-up that requires 8 days.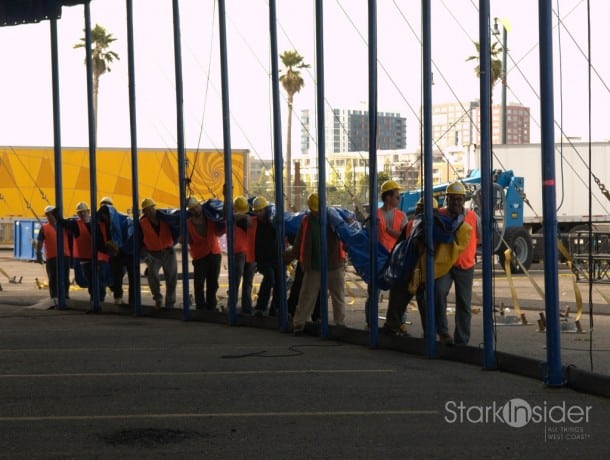 In these photos and video watch as an amazing team of 60-plus men and women hoist more than 100 steel poles from the ground up.
True to Cirque's penchant for spectacular entertainment, even watching the tent being raised is an artistic showcase. There is well-choreographed execution, impeccable timing, and definitely physical prowess. We're guessing they've done this at least once or twice before…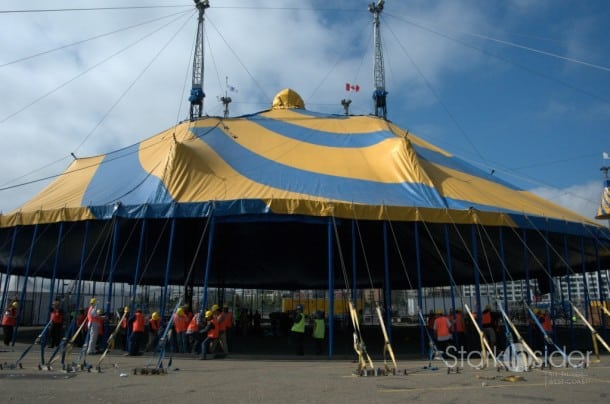 For fans of factoids, here's what you need to know about the show before the show:
— The Grand Chapiteau seats more than 2,600 people.
— The entire site set-up takes 8 days. This includes installation of entrance, hospitality and rehearsal tents, box office, administrative offices and kitchen.
— The Grand Chapiteau stands 19 meters high, 51 meters in diameter.
— The 4 masts stand at 25 meters tall each.
— 550 pegs are required to hold the Grand Chapiteau firmly to the 4,500 square meters of asphalt.
— The Grand Chapiteau, the Tapis Rouge and Artistic tents are all climate control with air conditioning in warm seasons or heating for colder seasons.
— TOTEM travels via 65 trailers carrying more than 1,200 pounds of equipment for the tour.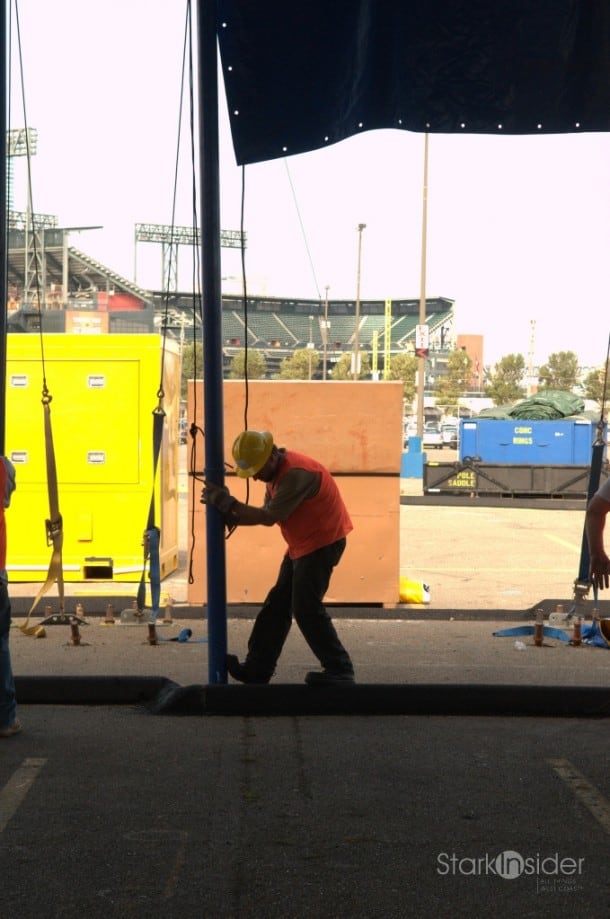 Stark Insider TV: Raising the Big Top at Cirque du Soleil
[Photos: Kasey L. Ross]