It's busy for film, theater and the arts this fall season. Mill Valley Film Festival is underway, and there's lots to see and do there including a spotlight on actor Ezra Miller (We Need to Talk about Kevin) this Thursday. Later the Napa Valley Film Festival lands in wine country where Billy Bush of Access Hollywood will reportedly be in town.
Meanwhile the Bay Area live stage continues to be a tour de force. We have a few openings on our radar including a world premiere at Berkeley Rep, and a look into apartheid in San Francisco.
How to Write a New Book for the Bible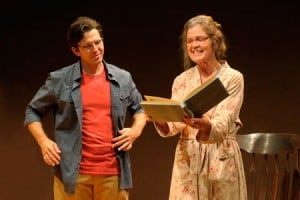 Berkeley Repertory Theatre
Written by Bill Cain
Directed by Kent Nicholson
Opens Oct. 12 – Berkeley
Every family creates a sacred story out of love. In Bill Cain's poignant new play, a man moves in with his mother when she becomes too frail to care for herself. Their reunion heals old wounds, opening a heartfelt and humorous new chapter in their relationship. From the award-winning author of Equivocation and 9 Circles, this timeless tale celebrates a mother's love and a son's devotion. Respected director Kent Nicholson comes back to the Bay Area for the world premiere of How to Write a New Book for the Bible.
Master Harold and the Boys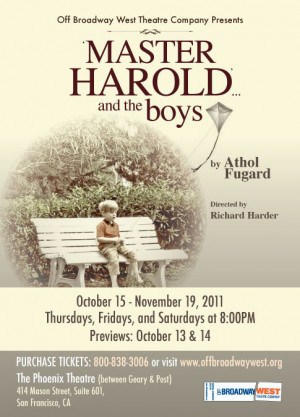 Offbroadway West Theatre Company
Directed by Richard Harder
Opens Oct. 15 – San Francisco
What: Taking place in South Africa in the 1950's, the play focuses on the relationship of a young white boy with his father, and with the two black men who have worked in the family business for many years. While the social and political climate of South Africa made it possible for Hally (the young man) to view himself as more knowledgeable than Sam or Willie (the two black men who have worked for the family), it is Sam who teaches Hally about the harsh realities of the world.
Although the institution under scrutiny is apartheid, race relationships, familial relationships, and prejudice are as universally prevalent today. Fugard demonstrates how the fractious and disruptive effects of apartheid challenge all notions of traditional relationships and journeys so deep into the psychology of racism that all national boundaries quickly fall away and no one is left unimplicated by his vision. But we are also left with the exultant hope that we may yet practice compassion without stumbling.
[Photos for Berkeley Rep courtesy kevinberne.com]