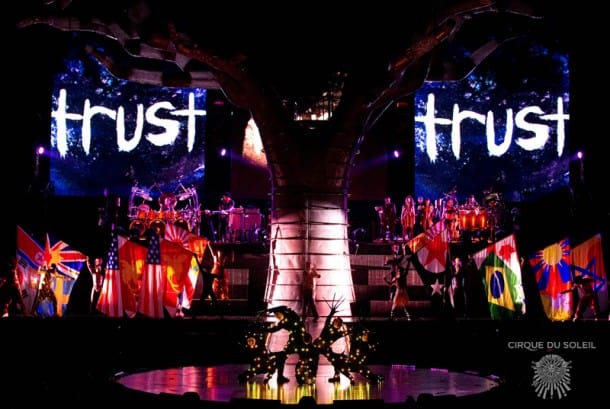 The Estate of Michael Jackson and Cirque du Soleil this morning announced that Michael Jackson THE IMMORTAL World Tour will play San Jose, on January 13, 14 and 15, 2012 at HP Pavilion, and in Oakland on January 18 and 19, 2012 at Oracle Arena.
The production combines Michael Jackson music and choreography with Cirque du Soleil creativity to give "a unique view into the spirit, passion and heart of the artistic genius who forever transformed global pop culture."  Written and directed by Jamie King, one of the leading concert directors in pop music today, the show features more than 60 international dancers, musicians and acrobats.
According to organizers the tour is aimed at lifelong fans as well as those experiencing Michael's creative genius for the first time; the show captures the essence, soul and inspiration of the King of Pop, celebrating a legacy that continues to transcend generations.
THE IMMORTAL World Tour takes place in a fantastical realm where we discover Michael's inspirational Giving Tree—the wellspring of his creativity. The secrets of Michael's inner world are unlocked—his love of music and dance, fairy tale and magic, and the fragile beauty of nature.
The underpinnings feature Michael Jackson's powerful, inspirational music and lyrics—the driving force behind the show—brought to life with extraordinary power and breathless intensity – and Michael's global messages of love, peace and unity.
Writer and Director Jamie King has been called one of the most influential "movers and shakers" in the music industry, and the "Jerry Bruckheimer of tent-pole concert tours" by Variety. A multiple Emmy Award and MTV Video Music Award nominee, he has choreographed some of the most popular music videos and directed some of the highest-grossing concert tours of all time. For the past 12 years, he has served as Madonna's creative director, and most recently directed world tours for Rihanna, Celine Dion, Spice Girls, Britney Spears and Avril Lavigne. King has worked with an array of superstars including Ricky Martin, Christina Aguilera, Mariah Carey, Shakira, George Michael, Elton John, Diana Ross, Jennifer Lopez and even Ellen DeGeneres. This is Jamie's first show with Cirque du Soleil.