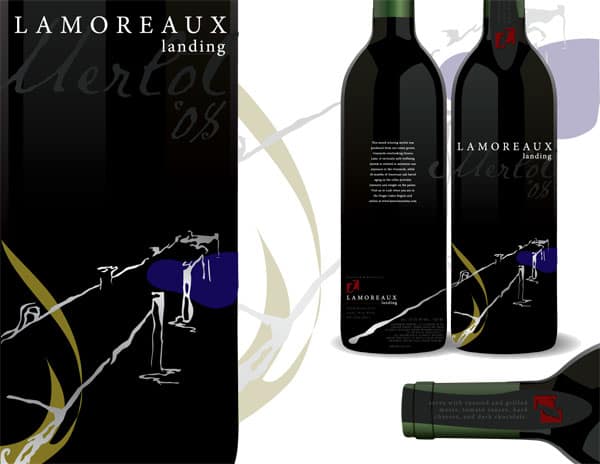 The Volunteer Center of Napa Valley has announced the winners of the 2011 International Wine Label Design Contest. Lamoreaux Landing, designed by Veronica Martin for the eponymously-named New York winery, won the Overall Award.
Entries were judged on the following criteria: overall originality and creativity, use of typography, and use of graphics. Certificate Awards for the International Wine Label Competition will consist of Gold, Silver, and Bronze awards.
The roster of international judges includes Paul Wagner, co-author of Wine Marketing & Sales and wine marketing instructor at Napa Valley College. "The single most important interface between the winery and the customer is the label; on the shelf, or in the restaurant. This competition brings attention to the people who are breaking new ground, and developing the most successful designs in the world. The winning labels were fun, dramatic, creative, and most of all, effective!"
Rounding out the team of judges are Pascal Durand, Wine Marketing professor at the ENESAD program at the University of Burgundy in Dijon, France; Tim Gaiser, MS, Director of Education, Court of Master Sommeliers Americas; Javier Merino, Management and Marketing Professor at the University of Mendoza, Argentina; Pierpaolo Penco, Director at the Executive Master in Wine Business program at MIB School of Management, Trieste, Italy; and Liz Thach, PhD, Wine Business Professor, Sonoma State University, who co-authored Wine Marketing & Sales with Paul Wagner.
A call for entries for the next competition will go out in spring of 2012. The proceeds of the competition, which are in the form of submission fees, go directly to benefit the Volunteer Center of Napa Valley.
2011 International Wine Label Design Winners

A panel of international judges chose the winners in 6 categories:

Successful Innovation
GOLD – Love Seafood, designed by Alan McCorkindale of Christchurch, New Zealand
SILVER – Belle Dame, designed by Vanessa Mylchreest of Christchurch, New Zealand
BRONZE – Noir, designed by Karen Knecht of konnectDesign, Santa Monica, California

Dramatic Graphics
GOLD – Lamoreaux Landing, designed by Veronica Martin of Miami, Florida
SILVER – Buble, designed by Karen Knecht of konnectDesign, Santa Monica, California
BRONZE – Ray's Station, designed by Mark Davis of Robert Mather & Gibbs,
Santa Rosa, California

Classic Style
GOLD – Finca Vides Torcidas, designed by Dan Kaplan of Daniel B Kaplan Design,
New York, New York
SILVER – Ray's Station, designed by Mark Davis of Robert Mather & Gibbs,
Santa Rosa, California
BRONZE – Wine by Numbers, designed by David Danz of LeBlanc Design,
Placerville, California

Label Series
GOLD – Vigne Note, designed by William Raineri of Raineri Design, Brescia, Italy
SILVER – Sawhorse Cellars, designed by Karen Knecht of konnectDesign,
Santa Monica, California
BRONZE – BVN Wines, designed by Dan Kaplan of Daniel B Kaplan Design,
New York, New York

Labels Not Currently in Production
GOLD – Between the Vines, designed by Dan Kaplan of Daniel B Kaplan Design,
New York, New York
SILVER – Sintonia, designed by Faini Eugenia of Grafica e Comunicazione, Jesi, Italy

Overall Winner
Lamoreaux Landing, designed by Veronica Martin of Miami, Florida