Follow Loni as she goes behind the scenes at The Hula Show! Includes a sneak peek at the performers prepping for their upcoming performance at the Palace of Fine Arts in San Francisco, and an exclusive interview with world-renowned director Patrick Makuakāne, a native of Hawaii.
What makes this dance company unique is "hula mua," a style that combines traditional hula with modern interpretation of the form which can even include as mashup of techno, pop, and other modern musical formats. As you can see in this Stark Insider segment it can make for some arresting visuals.
Based in the city for 26 years now, the company has become known as a progressive organization that not only stages lavish productions, but also one that is preserving (and promoting) Hawaiian culture. And the key to the Hula? "In traditional Hawaiin dancing all of the dances are accompanied by poetry. Poetry is considered the main vehicle of the story," explains Patrick. "The movements embelish and dramatize the story, but it's the actual story itself that's most important."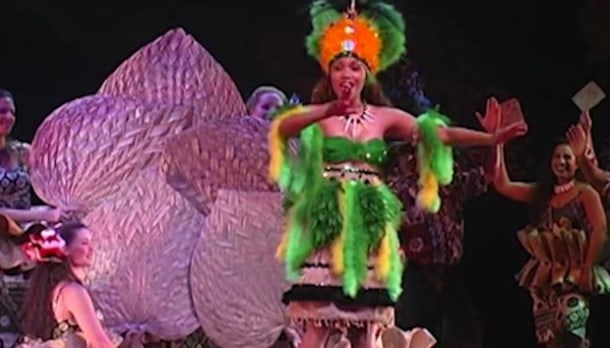 Also we learn about where hula might be headed – there's a movement afoot, in the streets, the parks, the studios, and the rehearsal halls that is an interesting story in its own right.
Oh, yes, of course Loni asks the usual Stark 3s. His favorite drink? Well, I'll you tell this much: coconut juice. Possibly no surprise there. But where it comes from might catch you off guard.
You can see the Hulu Show by Nā Lei Hulu I Ka Wēkiu at the Palace of Fine Arts.
[Contributing from SF: Clinton Stark]