42nd Street Moon announced it will present the American premiere of a full production of Three Sisters, with music by Jerome Kern, and book/lyrics by Oscar Hammerstein II. San Francisco audiences last saw this little-known Kern and Hammerstein musical when 42nd Street Moon's Lost Musical Series presented the American premiere in 1995, in a concert format.
According to a spokesperson, with the help of a recent National Endowment for the Arts Grant, the company is now able to mount the first full production ever seen in the United States.
The musical Three Sisters (not to be confused with the Chekhov play of the same name) opened in 1934 at the Drury Lane Theater in London, featuring British stars Stanley Holloway and Adele Dixon, together with Broadway favorite, Charlotte Greenwood. The intention was to mount the show in New York after a successful London run, but mixed reviews by the British press closed it after two months. Despite the praise of American critics, it never made its planned American debut.
"We presented Three Sisters in a staged concert in 1995 – the first production ever since the London original in 1934," said Moon's Artistic Director, Greg MacKellan, who will also direct the show. "Now we are bringing it back in a newly-restored, full premiere presentation."
MacKellan noted that there are a few similarities to one of Hammerstein's famous collaborations with Richard Rodgers.
"It's interesting to see how the relationship of Billy Bigelow and Julie Jordan – the central love story in Carousel – is anticipated by the story of Gypsy Hood and Mary Barbour in Three Sisters. Liliom – the source play for Carousel – had just been revived in New York in 1932, and I think Liliom and Julie must have been on Hammerstein's mind as he was creating Mary and Gypsy."
The story is set during the World War I era in England and involves a traveling carnival photographer, his three spirited young daughters and their romantic adventures. The youngest daughter becomes involved with a traveling entertainer, who deserts her on their wedding night.
The musical introduced standards such as "Lonely Feet" and "I Won't Dance," the latter used and made famous by Fred Astaire in Roberta. The score also included "Hand in Hand" and "What Good Are Words?" which were popular in England at the time.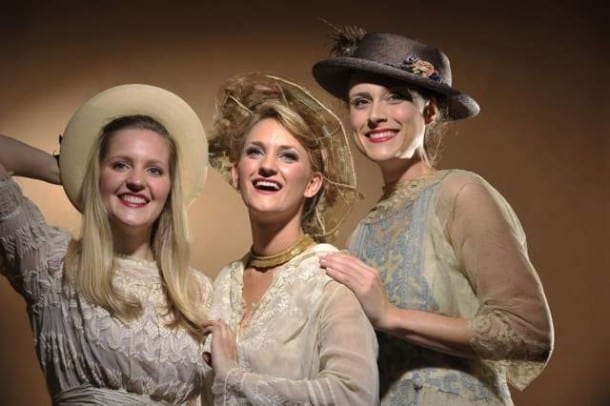 Three Sisters

42nd Street Moon
San Francisco
Opens: Saturday, Dec. 3 at 6 pm