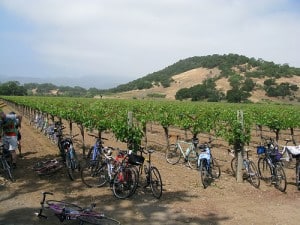 If you're looking for something special to do in Napa, here's a unique event. It's a little pricey, but (a) you'll be helping a Napa non-profit in the process, and (b) you're likely to have a pretty memorable time.
You'll start the day with a special breakfast at Solbar, the upper Valley's Michelin-starred restaurant. According to organizers, Chef Brandon Sharp has designed a special breakfast that will fuel the group on the first 40 mile leg of the ride.
Then, at Pine Ridge Winery, you along with the other riders will sample award winning wines along with the art of Chef Janet Sheehan, whose work at Quince, 213 Ellsworth, and Pine Ridge Winery have earned her national recognition.
Chef Sheehan tells us she's enthusiastic about her contribution to the event. "I've seen what Levi does on a bicycle, and it's amazing," she said. "My job is to make sure that we replace the calories of this ride with the most delicious food on the planet. I am going to make sure that this is going to be a lunch that you will never forget!"
At the next stop, a group of select Napa Valley winemakers, led by Master of Wine Peter Marks teamed up with Tom Rinaldi of Provenance Winery, will create a one-of-a-kind experience tasting world class reserve wines at Vineyard 29. As the Grand Finale at the final stop, Gary Erickson, founder of Clif Bar, will welcome the group to Velo Vino to swap stories about epic rides over a special dessert food and wine pairing.
The cost of the first Legendary Napa Bike Wine Tour is $1500 per person, which is a tax-deductible donation to the Napa County Bicycle Coalition, a California non-profit 501(c)3 organization. All proceeds from this event benefit the Coalition and its goals to make Napa County more bicycle-friendly for cyclists of all types and persuasions. Tickets are sold on a first-come, first served basis, and only twenty-five places are available.
If you go please be sure to drop us a line to tell us what you thought!
Agenda/Route

Friday, November 11, 2011 – 8:00 am to 6:00 pm

Breakfast with Levi and Chef Brandon Sharp at Michelin-Starred Solbar in Calistoga at 8:00 am
Depart Solage @ 9:00 am via Pope Valley to Napa for luncheon prepared by Chef Janet Sheehan and special tour with CEO Erle Martin at Pine Ridge Winery (40 miles)
Ride from Pine Ridge for special private tasting of world class reserve wines, accompanied by gourmet snacks at Vineyard 29 in St. Helena hosted by CEO Chuck McMinn (10 miles)
Ride from Vineyard 29 to espresso and wine chocolate pairings hosted by Gary Erickson, Founder of Clif Bar at Velo Vino (5 miles)
Presentation of the exclusive one-of-a-kind event cycling jerseys signed by Levy to all 25 participants
Transit from Velo Vino to Calistoga via Calistoga Bikeshop's luxury coach which provides SAG support for entire ride.
[Photo: Andrew Hecht]