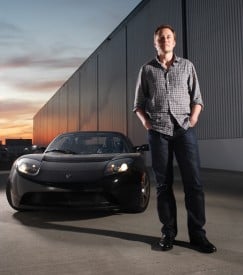 The Churchill Club, Silicon Valley's largest technology forum, will celebrate its first ever awards for extraordinary achievement in technology. Categories include innovation, social benefit, collaboration, and leadership. The ceremony will take place next week on September 15th at the Santa Clara Hyatt.
Over the past two-and-a-half decades, the organization has hosted industry and government leaders and luminaries such as Marc Andreessen, Steve Ballmer, Craig Barrett, Ursula Burns, John Chambers, Jim Clark, Bill Clinton, Larry Ellison, Bill Gates, Andy Grove, William Hewlett, Arianna Huffington, Bill Joy, Dean Kamen, John McCain, Scott McNealy, Lew Platt, Eric Schmidt, and many more.
Winners this year include Microsoft for its Xbox 360 Kinect gaming interface, and Tesla's founder Elon Musk.
Legendary Silicon Valley author, speaker and advisor Geoffrey Moore will act as master of ceremonies. Honorees will be present to accept the awards and will be introduced and interviewed onstage by a very special guest.
THE CHURCHILL CLUB AWARDS
September 15, 2011
Time: 5:00 PM Registration & Networking | 6:00 PM Banquet | 7:15 PM Program & Awards Ceremony
Location: Santa Clara Hyatt & Convention Center | Directions
Come meet the winners and be inspired on the evening of September 15th, as the Churchill Club presents, the Churchills, an inaugural event acknowledging companies and individuals for extraordinary achievements in the areas of innovation, social benefit, collaboration, and leadership. By highlighting excellence, the goal of the Churchill Club Awards is to inspire others to pursue innovation that can result in economic and globally beneficial growth.
2011 Churchill Club Award Winners:

Game Changer: For indispensable technology and business innovation.
Spirit of the award: "You changed how things are and there's no looking back."
The 2011 Game Changer Award is presented to FACEBOOK
Accepting on behalf of Facebook: Katie Mitic, Director of Platform Marketing, Facebook. Introducing and interviewing Ms. Mitic onstage will be Margit Wennmachers of Andreessen Horowitz.

Global Benefactor: For irrepressible vision and positive impact on society.
Spirit of the award: "Thanks for thinking big."
The 2011 Global Benefactor Award is presented to SALMAN KHAN, THE KHAN ACADEMY
Mr. Khan will personally accept the award and be interviewed onstage by an introducer/interviewer to be announced.

Magical Team: For collaborative breakthroughs resulting in an irresistible product.
Spirit of the award: "You guys nailed it."
The 2011 Magical Team Award is presented to MICROSOFT, KINECT FOR XBOX 360
Accepting on behalf of the Kinect team: Mihai Budiu, Microsoft Research and Todd Holmdahl, Corporate Vice President of Hardware, Microsoft. Mr. Budiu and Mr. Holmdahl will be introduced and interviewed by an individual to be announced.

Legendary Leader: For inspirational leadership and contributions to others' innovation and success.
Spirit of the award: "Couldn't have done it without you."
The 2011 Legendary Leader Award is presented to ELON MUSK, TESLA, SPACEX, SOLAR CITY
Mr. Musk will personally accept the award and be interviewed onstage by Steve Jurvetson of Draper Fisher Jurvetson.