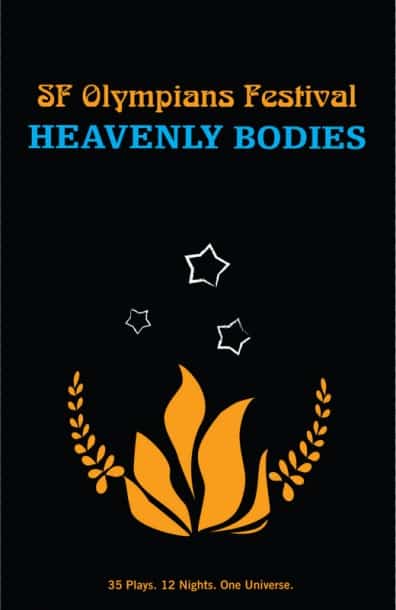 In the month of July in 2010, No Nude Men Productions, one of San Francisco's longest running indy theater troupes, rolled out twelve new full-length plays written by fourteen local writers, each one focusing on one of the twelve Olympian gods of Ancient Greece.
Now the San Francisco Olympians Festival is back, and bigger than before.
This year the festival features thirty-two new plays including nine new full lengths, the collective work of twenty-nine local writers! Over the course of twelve nights each play will be given a staged and rehearsed reading at the Exit Theater by some of the best and brightest of the San Francisco acting scene.
Additionally, the theater itself will contain an ongoing exhibit of thirty-nine original, themed art pieces being generated for the show's publicity by twelve local artists. Door prizes themed to each night will round out the evening's entertainment.
The fest is themed around the celestial myths and deities, with the planets, constellations and various sky gods as the themes of the evening.
The twelve artists whose work is represented are: Christopher Bauman, Molly Benson, Liz Conley, Brett Grunig, Chelsea Harper, Emily C. Martin, Adam Miller, Kelly McClellen, Cody Rishell, Celeste Shulte, Gintah Tran.
San Francisco Olympians Festival

Performances run Thursday, Friday and Saturday, October 6-29, 8 PM at the Exit Theater (156 Eddy Street, San Francisco).

Admission: $10.00 a night, with a "buy four, get the fifth one free" option.

www.sfolympians.com.

Additionally, according to Stuart Bousel an opening night party will be held at the Café Royale (800 Post Street) at 8 PM on October 1st, with free food, a sneak peak at what shows are happening at the festival, and the unveiling of the this years artwork, which will hang at the Café Royale for the month of October.
The plays, dates and authors are as follows:

Week One (Thursday, Friday, Saturday): STAR-SPANGLED HEROES

October 6: HERACLES AND THE THINGS HE'S KILLED by Team Thunderbird (Bryce Allemann, Dana Constance, Kathy Hicks, Sang Kim, Kai Morrison), directed by Kai Morrison
The story of Heracles receives a few much-needed corrections from the only man who would know: his twin brother. You knew he had one, right?

October 7: HUNTER AND HUNTED
Orion by Meg Cohen, directed by Claire Rice
Joe "Orion" Ryan is a neo-noir cop drama set in the landscape of gritty

1970s cinema classics, where the men wear moustaches and the women wear guns.

Canis Major by Claire Rice, directed by Claire Rice
It's the dog days of summer ,and man's best friend is a beat poet.

Scorpio by Seanan Palmero, directed by Claire Rice
Good old fashioned revenge and new age technology clash as Scorpio, an embittered short order cook, and Antares, his smart phone, track Orion through the desert.

October 8: PERSEIAD SHOWER
Perseus by Bryce Duzan, directed by Bryce Duzan
A warrior and a prince fight against royalty, society, and the gods themselves to defend their love for each other.

Andromeda Bound by Helen Noakes, directed by Stuart Bousel
When a hero meets a damsel in distress, bondage takes on a whole new meaning.

Pegasus by Daniel Heath, directed by Stuart Bousel
Pegasus and Bellerophon must defeat the Chimera, but can a legend really die?

Cetus by Kirk Shimano, directed by Stuart Bousel
It's just your average, ordinary high school reunion for mythical whales.

Cassiopeia by Christian Simonsen, directed by Stuart Bousel
It's not easy being a beautiful queen and a loving mother… so Cassiopeia chose one out of two.

Week Two (Thursday, Friday, Saturday): LORDS OF LIGHT

October 13: Uranus by Evelyn Jean Pine, directed by Rik Lopes
1956. Rock and roll is tearing apart The First Family of Country Music. Mama kinda likes it, but Daddy's agin it, and the boys are ready to rip everything apart.

October 14: Chronus by Bennett Fisher, directed by Jessica Holt
A play about how we make gods and monsters out of our politicians.

October 15: A DAY IN THE LIGHT OF…
Hyperion to a Saytr by Stuart Bousel, directed by Stuart Bousel
A romantic comedy meditation on status, glamour and identity in post-modern San Francisco where status has become the ultimate goal and lifestyle has very little to do with what's important in life.

Eos by Kendra Arimoto, directed by Stuart Bousel
True love? Check. Immortality? Check. Eternal Youth? F*@$k.

Nyx by David Duman, directed by Stuart Bousel
Before there was Earth, there was Night. She hasn't left since.

Week Three (Thursday, Friday, Saturday): FAMILY AFFAIRS

October 20: Gemini by Tom Darter, directed by Karen Hogan
An overly ambitious trope on Plautus and The Comedy of Errors: It has three sets of twins! That's right: three! Plus: Zeus (King of the Gods) and Hera (Queen of the Gods)! More fun than humanly possible!

October 21: FALLING STARS
Icarus by Jeremy Cole, directed by Jeremy Cole
In this tale of two Icaruses – one mythical, one actual – the sky is (quite literally) the limit.

Phaethon by Ashley Cowan, directed by Ashley Cowan
Tortured by talent, the reality of time passing, and the need to be forever remembered, steer this story of Phaeton; a one act about a boy trying to find his place among the stars.

Eosphosphorus by Sean Kelly, directed by Claire Rice
Things get explosive when the Night demands Eosphosphorus either stop his tilting at windmills or start looking for a new place to live.

Hard Pack by Lise Catherine Miller, directed by Lise Catherine Miller
The rivalry between partners of a snowplow dealership in the snowy Northeast reaches epic proportions.

Zephyrus by Neil Higgins, directed by Claire Rice
A love triangle and sibling rivalry lurk the halls of a British university with dangerous results.

Hesperus by Claire Rice, directed by Claire Rice
An uneasy peace comes to a breaking point on the boundary between heaven and hell.

October 22: Pleiades by Marissa Skudlarek, directed by Liz Anderson
It's 1971 and the seven daughters of an industry titan are caught between the patriarchal past and the feminist future.

Week Four (Thursday, Friday, Saturday): LADIES OF THE NIGHT

October 27: Selene by Nirmala Nataraj, directed by Amy Clare Tasker
Memories, dreams, premonitions, gods and mortals intersect in a Northern California facility for Alzheimer's patients.

October 28: ORBITING JUPITER
Metis by Maria Leigh, directed by Emlyn Guiney
How does a relationship alter the identity of the individual? How does a cycle get broken and at what cost? Can anything good come from swallowing your wife?"

Io by Christian Simonsen, directed by Emlyn Guiney
What happens to a mortal woman when she reaches an age where legends no longer
have a use for her?

Europa by Claire Rice, directed by Neil Higgins
She's been carried away by the man of her dreams, but who is he by the light of day?

Leda by Kirk Shimano, directed by Neil Higgins
Who knew bestiality could be so educational?

Callisto by Seanan Palmero, directed by Neil Higgins
Artemis and Zeus are treed by an angry bear.

Ganymede by Neil Higgins, directed by Neil Higgins
A Republican Senator and his new aide discover controversial feelings for each other and the senator must choose between his longings and his political ambitions.

Elara and Himalia by Alison Luterman, directed by Emlyn Guiney
When you're a wife of Zeus your duty isn't just to him, but his new wife too.

October 29: Hecate by M.R. Fall, directed by Julia Heitner
Question: What do Hecate, Copland's Hoe-Down, a bunch of horse references, and your period have in common? Answer: This play.