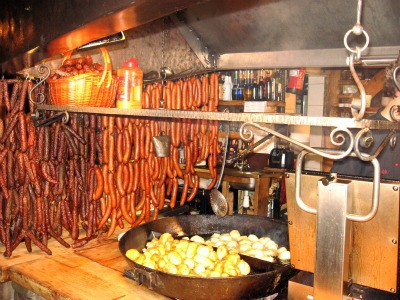 "Nie, Nie, Nie," (No, No, No) my cooking instructor said, shaking her head sadly, but with a mischievous little twinkle in her bright, blue eyes, as I clumsily tried to copy her faultlessly-formed, dimpled dumplings. But my fingernails kept poking through the dough. Without a word of English, she gestured that I should join the pierogi making group, which appeared easier.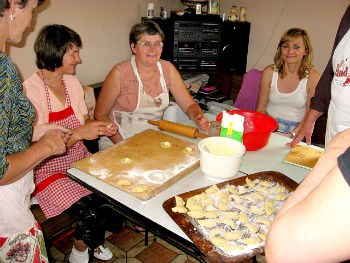 As I stuffed and folded the crescent-shaped dough, I again heard that infernal "Nie, Nie, Nie," over my shoulder. My personal, Polish version of Gordon Ramsay had snuck up behind me, pointedly looking first at one of the local's perfectly pinched pierogies and then at my misshapen attempt, which I admit was reminiscent of President Lincoln's profile on Mt. Rushmore. Not willing to admit defeat, she led me to the wood-burning stove, where a big pot of soup was boiling. Handing me a bowl filled with some thin, sticky, noodle dough, she showed me how to spoon off a miniscule thread, so it would curl directly into the simmering broth. My first one was ok, but then they started glopping together in a sodden mass. Again with the "Nie's", as she took the bowl and demonstrated how to dip the spoon each time into the hot broth before slicing off a noodle.
"Well, why didn't you say so the first time?" I said. I grabbed the bowl back, leaned over the steaming caldron and then dipped and spooned off some very credible imitations.
"Tak, Tak, Tak," (Yes, Yes, Yes!) she said, beaming with pride as she patted my back. Phew…now that I had redeemed myself, it was time to take off my "Poland Culinary Vacations" apron and dig in to the approximately 12 course, totally scrumptious, meal that I helped (?) prepare. Not only did I end up adoring the "Real Housewives of Nowa Biala" (the village we were cooking in) but I gained a new appreciation for the rich, culinary traditions that have gone on here for generations.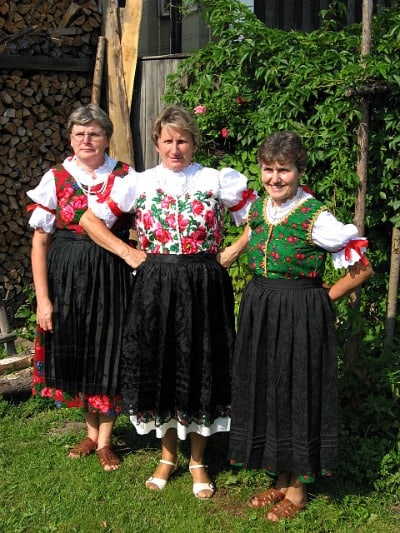 This was the first of three cooking classes (all super fun although rather humbling in my case) that were held during my "Cooking your way from Krakow to Zakopane" tour put on by Poland Culinary Vacations. For one extraordinary week I joined 6 other foodies (I was there more for the eating part of the adventure-rather than the hands-on cooking part, as you might have guessed!) for a fantastic culinary tour of Lesser Poland. (They really need to consider a name change since Lesser Poland is actually considered to be the nicest part of Poland. The region is loaded with magnificent castles, national parks, historic cities including Krakow, which is regarded as the cultural capital of Poland, as well as many UNESCO World Heritage sites worth visiting.)
Our tour was led by the bubbly, wildly enthusiastic, knowledgeable president of Poland Culinary Vacations, Sarna Rose. Although she now lives in Bozeman, Montana with her family, Sarna started this company to share her love of Polish cuisine and culture. This agritourism tour (Sarna also conducts several others culinary trips throughout Poland) began with 4 nights in gorgeous Zakopane, aka Poland's winter sports capital which is nuzzled at the foot of the Tatra Mountains. We spent the last three nights exploring the more sophisticated food scene in Krakow including a professional cooking class at the Culinary Institute in Cracow.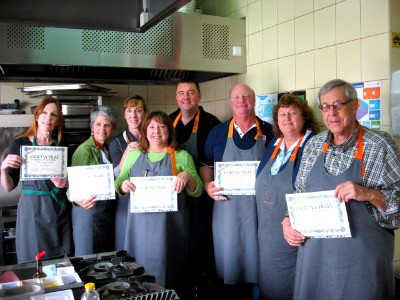 Just a few of the other highlights of the week include:
– Clapping in time as the village women, all decked out in their traditional outfits, graciously entertained us by singing Polish folk songs.
– Sampling different variations of "oscypek", a smoked cheese unique to Zakopane and then visiting a bacowka, small mountain shepherd hut, where the cheese is still made in the traditional highlander way. Really delish served grilled with berry jam.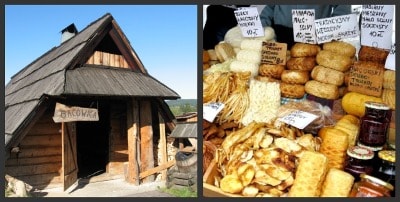 – The breathtaking beautiful drive to Sromowce-Wyzne village (with landscape that rivals Switzerland's finest views ) where we lazily floated down the Dunajec River Gorge on wooden rafts, poled by Gorale (local highlanders) wearing their traditional outfits.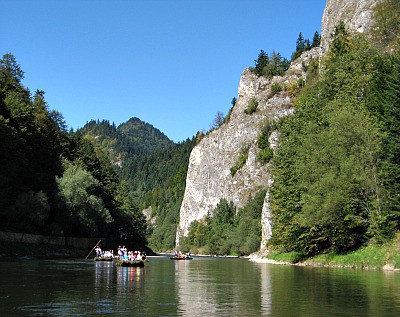 – Visiting a UNESCO listed timber church made with wooden pegs rather than nails with unique paintings and precious Gothic sculptures from Poland's fifteenth and sixteenth centuries. Just one of our stops along the area's Wooden Architecture Route.
– Sampling the local beverages such as highlander tea (laced with vodka), a hot spiced raspberry beer, and Żubrówka (bison grass vodka) mixed with apple juice.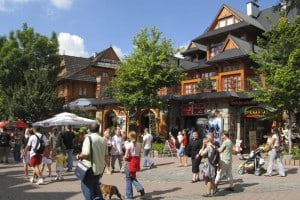 – Dining on the hearty, regional food at the many quality restaurants that line Zakopane's famous main street. Some of my fave dishes were all of the local soups (Zurek, an off-putting sounding sour rye soup with sausage and egg turned out to be the ultimate comfort food) Golunka (a huge, roasted pork knuckle), all sorts of sweet and savory Pierogi, placki (potato pancakes that often arrived laden with goulash) the fresh river trout, wild boar, lightly sweetened apple cake with whipped cream, and Zapiekanka, which is very popular among the younger generation, consists of a toasted halved baguette-about 1 ½ ft long- covered with mushrooms and heaps of melted cheese and then anything else you want to add, such as ham, pineapple, olives, etc…and then finished off with lots of ketchup!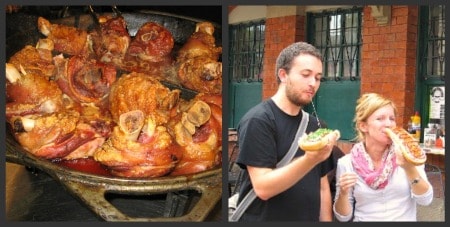 – Chatting with Adam Chrzastowski, one of Poland's celeb chefs, after he prepared our dinner at the Michelin recommended, Ancora restaurant, serving creative, contemporary Polish cuisine.
– Our private tour of the more traditional (non-edible) sights of Krakow: Old Town, Wawel Castle and Cathedral, Kazimierz-the Jewish district, and a must-see, Oskar Schindler's Enamel Factory, a new world-class educational museum which focuses not only on Schindler's story but also portrays Krakow during Nazi occupation.