San Francisco's Cutting Ball Theater announced it will open its 12th season with French symbolist Maurice Maeterlinck's Pelleas & Melisande, in a new translation by Cutting Ball Artistic Director Rob Melrose.
Directed by Melrose, with a musical score by composer Cliff Caruthers, video installation by Wesley Cabral, and choreography by Laura Arrington, the production features Joshua Schell, Catilyn Louchard, Derek Fischer, Paul Gerrior, and Gwyneth Richards, along with Bennett Fisher, Jessica Rudholm, Carla Pauli, and Brittany Kilcoyne McGregor.
Pelleas & Melisande has all the ingredients for a classic fairy tale: a princess in distress, a handsome prince, and a beautiful castle. Yet this seminal avant-garde play reveals that it is often easy to hide secrets in the shadows of the familiar. After Melisande's royal wedding, her growing feelings for her husband's brother Pelleas threaten to jeopardize her happily ever after. Their tragic love affair has inspired music from Claude Debussy's opera to orchestral works by Gabriel Faure, and Jean Sibelius.
In addition to Cutting Ball's production, San Francisco's EXIT Press will publish Melrose's translation of the work, along with his translations of Ubu Roi and Woyzeck; the book will include a forward by Oskar Eustis, Artistic Director of the Public Theater, and an introduction by Paul Walsh, Yale School of Drama professor and former head of dramaturgy at American Conservatory Theater.
Maurice Maeterlinck's Pelléas et Mélisande premiered in 1893 in Paris at the Bouffes-Parisiens under the direction of Aurélien Lugné-Poe; the production was the antithesis to the realism popular in French theater at the time. The play has been the basis of several pieces of music, perhaps the best known is the opera (1902) of the same name by Claude Debussy (the only opera Debussy ever completed). In 1898, Gabriel Fauré composed incidental music for the play, from which he later extracted a suite. The story of Pelléas and Mélisande also inspired Arnold Schoenberg's early symphonic poem Pelleas und Melisande (1902-03); Jean Sibelius wrote incidental music for a version of the story in 1905.
Stark Insider TV: In Coversation – Rob Melrose
"Pelleas & Melisande is a play that is close to my heart," said Cutting Ball Artistic Director Rob Melrose. "I am very excited to open Cutting Ball's 12th season with this new version of the play, and to share this new translation of a work that I have long wanted to bring to the Cutting Ball stage. Maurice Maeterlinck was one of the most respected writers of his time; there is something about his worldview that is truly unique. It is at once modern and medieval, a fairy tale world for adults. In our busy modern lives, there is something refreshing and eye opening about spending some time in this world. I have dreamt about how to direct Pelleas & Melisande since I first read it 20 years ago, how to open this world up to a contemporary audience. I'm thrilled to be able to bring together a team of some of Cutting Ball's best designers, as well as many favorite company members, to help bring this evocative grown-up fairy tale to life."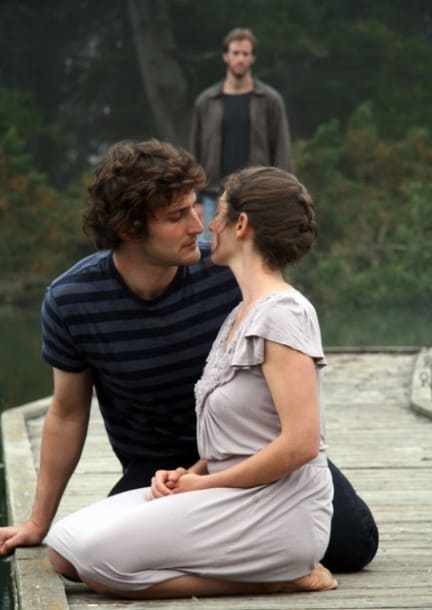 Pelleas & Melisande

Cutting Ball Theater, San Francisco

Previews: October 21, 22, 8pm; October 23, 5pm
Opens: October 27, 8pm
Closes: November 27

All performances Thursday at 7:30pm; Friday-Saturday at 8pm; Saturday at 2pm; Sunday at 5pm

Special events:
Gala Opening Night – October 28, 8pm, $50 tickets
Thursdays – pre-show Dramaturgy 101 and Happy Hour
Fridays – Post-show meet and greet with the cast
Saturday, November 5 and 19, 1pm – "Music inspired by Pelleas & Melisande," a pre-matinee lecture and discussion with composer Cliff Caruthers and New Century Chamber Orchestra's Executive Director, Parker Monroe; free and open to the public
Sundays – post-show talkbacks with the artists

More Coverage:

Cutting Ball Stories on Stark Insider
Bay Area Theater and Arts Guide
Stark Insider on Facebook

cuttingball.com