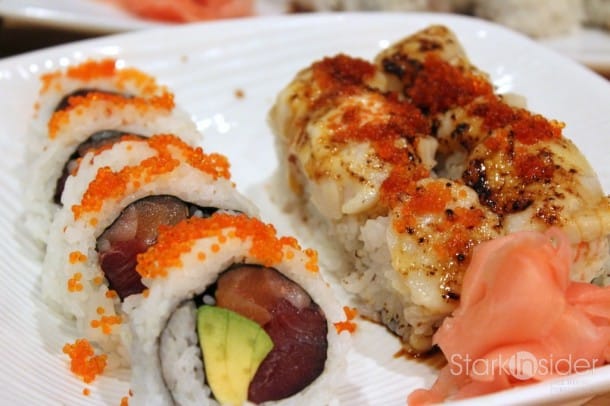 Let me cut to the chase. Stop beating around the bush. There are a lot of things to like about Almaden Sushi. Some on Yelpers have raved about the Chicken Teriyaki or the "sleek contemporary Japanese vibe".
None of these are reasons why I still salivate when I think about my dinner with the O—s last week at this sushi restaurant. My cravings are for the unassuming looking and sounding X-file roll.  It consists of a "California roll topped w/ seared scallops w/ special mayo and tobiko" as noted on the menu.
I'm glad someone at the table ordered it. The description does not do this roll justice. There is another sauce as you can tell from this picture smeared on the top of the scallops which is not listed on the ingredients list but I think it is key to making this roll irresistible. The sauce as a smokiness and almost the savoriness of truffles.
What is it?
I don't know. Maybe that is why they call it the "X-file" roll. We had to order another one of these rolls for the table. I know some at our dinner party went back a couple of days later for lunch just to order this roll again.
The fact that their other sashimi, nigiri and rolls are fresh and delicious means they won't have to wheel me out anytime soon after overdosing on X-file rolls. Don't think I haven't had day dreams about scarfing down three of these rolls by myself. The thought has occurred to me.
Go to Almaden Sushi, sit down and if nothing else, order the X-file roll.