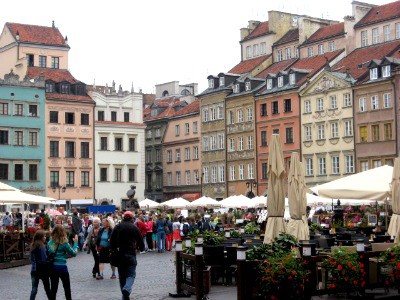 Normally I would be crazed trying to fit in all the restaurants I wanted to try in just one travel day, but that's all the time I had to explore Warsaw's culinary climate before heading back to the states. Thankfully, Poland must have been created with foodies in mind, since meals here consist of a very civilized:
1. Breakfast
2. Second Breakfast
3. Lunch
4. Dinner
5. Supper
I do love a country that has its priorities straight. I managed to fit in a bit of traditional sightseeing during my overnight in Warsaw, but I was mainly there for the cuisine and it did not disappoint. From comforting peasant food (complete with complimentary smalec, fried lard to spread on hunks of homemade bread) served in frill-free surroundings to splurge meal at one of Magda Gessler's (Warsaw's leading lady restaurateur) many glitzy restaurants, Polish cooking is no longer the punch line to a joke.
Feel free to follow my food diary for a perfect day of eats:
First breakfast:
I kicked things off at the bountiful buffet at my hotel, the Polonia Palace.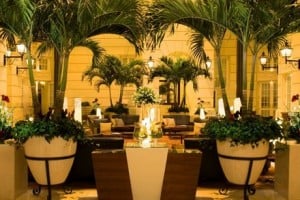 I started with an eye-opening shot of vodka and then while the omelet chef was  preparing my special order, I perused the tables laden with meats, cheeses, fresh fruit and homemade pastries- the berry-filled danish was a winner.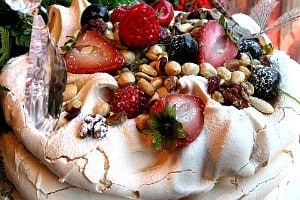 Second Breakfast:
I was feeling a bit peckish, not having eaten in almost half an hour, so when I passed  Gessler's Embassy Confectionery and Pastries I made a quick detour into the Czaji Teahouse for a cuppa ( chosen from an impressive tea selection) and a impromptu tasting of fresh doughnuts, nut buns and fruit filled pastries. All were totally scrumptious, though sweeter than most Polish desserts.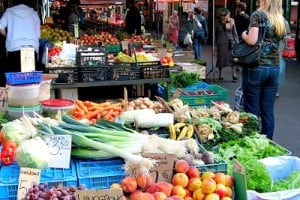 Took a side trip to visit Hala Mirowska, the historic, fresh food market lined with bullet-studded walls and chockfull of gorgeous fruits and veggies, bakeries, butchers and fish mongers. Don' be shy- push your way through the throngs of locals as they do their daily shopping and catch up on the latest gossip. Great photo ops.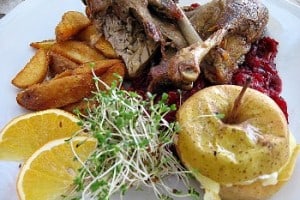 Lunch:
If the weather is even remotely pleasant, try and nab an outdoor table at Literatka, found on the first floor of The House of Literaturem, which occupies two gorgeous, historic rococo buildings on Warsaws most fashionable street, ul. Krakowskie Przedmiescie, The perfectly cooked roast duck (not at all fatty) came with a baked apple filled with warm cranberry sauce. After a cappuccino and delicious slice of not-too-sweet apple cake I was ready to begin exploring Old Town. Although it was 90% destroyed in World War ll, Old Town was painstakingly reconstructed to mirror the original look, and worth  a stroll along the cobblestone streets.
Ice cream is extremely popular in Warsaw, no matter how low the temps dip.  For a tasty cone (the rich fruit flavors are particularly good) join the queue at Lody, on Świętojańska street.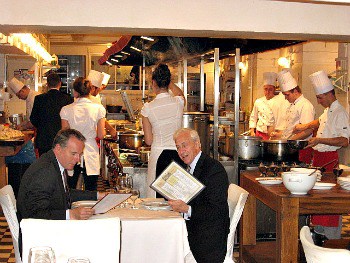 Dinner:
I had my doubts as I entered U Kucharzy (At the Chefs) through what seemed to be the employees entrance. I wound my way in and out of the ancient looking, white-tiled maze, peeking into small dining rooms springing up like mushrooms along the narrow passage way, until I  burst upon the industrial sized, open-kitchen filled with bustling chefs. This wildly popular restaurant, located in the old kitchen of the famed Europejski Hotel, is filled with an ecelctic assortment of diners,  two starving –looking students were seated next to a fashionable quartette straight out of Sex and the City and all received the same attentive service.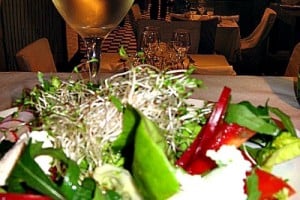 Play it smart and reserve ahead for one of the coveted front-row theater-style seats for the best viewing. One could easily pick up some Top Chef moves while watching about two dozen white-touqued chefs as they slice, chop and dice along both sides of the oversized wooden chopping block table. Surrounded by flaming grills, steaming sauce pots and sizzling fry pans, they deftly prepare country classics like the traditional Golanka-pork knuckle stewed in cabbage or Polish style brains on toast. Once you place your order, it's handed off to "your" chef who will prepare the food and then deliver it personally to your table. A cadre of other chefs will arrive to dish out the sides down to the last chef who was responsible for snipping bits of fresh dill over my ethereal veal meatballs. I had started with beautiful still-life, garden-fresh salad, topped with tangy goat cheese. It was delicious but after I spied a chef wheeling the Steak Tartare cart over to another table and with all the skill and finesse of a heart surgeon, fold in the proper proportions of onions, anchovies, capers and egg yolk and then scoop the glistening mounds onto the plate, I was so sad that I couldn't find even a speck of room left in my stomach to try it.
The fresh flower arrangements, the enchanting music (provided by live piano player) and the fact that the hands-on owner, Mateusz Gessler, is fanatic about using only the highest quality food sourced from nearby farms, all add up to a seriously fun dining experience.
Tip: Although dinner can easily run over $75, they also offer a set 3 course bargain lunch for only 30 zloty. (About $10)
Supper:
In the spirit of full disclosure, I have to admit that I kind of skipped my supper later that night (hmmmm, I wonder why?) at the Tygmont Jazz Club, one of the best live music venues in town. I did manage a few sips of their surprisingly good żurek, a thick sour soup loaded with sausage, as I watched the entertainment. That night it was a dance class consisting of two instructors teaching swing dancing to an enthusiastic bunch of Poles who were happily jittering away to American oldies.
Suggested Museums for in-between meals:
– The Warsaw Rising Museum: Filled with almost 1000 exhibits, the museum opened in 2004  to commemorate the 60th Anniversary of the tragic Warsaw Uprising of 1944.
– A quick stop at Gestapo Headquarters, a frightening reminder of the horrors of World War, reveals the actual interrogation rooms, complete with instruments of torture, used to elicit information from the Polish opposition.
– Chopin lovers will want to pay their respects at his museum which reopened last year (on the 200th anniversary of his birthday) in the Ostroski Palace. It's decked out with uber hi-tech displays which can be activated by your micro-chipped ticket.

Skip to the Loo:
Though perhaps not on the same caliber of lasting importance as the Royal Castle, if you're anywhere in the vicinity of the main railroad station, you simply must stop for a bathroom break at one of "2theloo" immaculate, artsy, themed public toilets. Styled out with Villeroy & Boch fixtures, and a 2theloo gift store  for all your toiletry needs, this pit stop is well worth the 2 zloty charge. (About $.65)
Gift Shopping: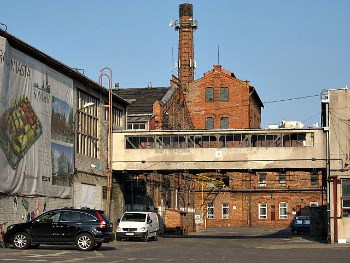 Magazyn Praga is located on the grounds of a former 19th -century Koneser vodka factory in the hip new cultural district, Praga, similar to Williamsburg in Brooklyn. Pick up anything from a blood-red clothes hanger in the shape of a miniature Palace of Culture and Science to some unique retro/chic designer furniture.
Mead (honey liqueur) is very popular here and a good one is made by Krakowski Kredens, a top-notch specialty food producer offering tastefully packaged delicacies at their culinary boutiques located throughout Poland. Don't leave without buying a jar of żurek (traditional sour soup) dill pickles, cowberry preserves, gingerbread, and cheese (oscypek, a smoked sheep's milk cheese from the Highlands, is totally addictive) with some fudge-like krowki for dessert.
For my prezzies, I stocked up on small bottles of Żubrówka, a rye based, light yellow vodka,which derives its distinctive herb flavor from Bison grass which grows in the Białowieża Forest.  A blade of the grass is placed in each bottle of Żubrówka.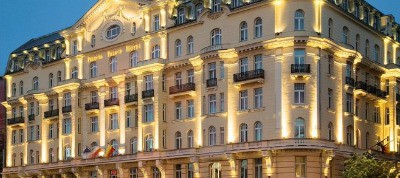 Stay:
I loved the perfect palatial digs at the recently restored Polonia Palace (Eisenhower hosted a victory banquet here) which still retains it's old world charm along with many welcome modern touches, such as a  lively bar, complimentary business center, fitness center and sooper comfy beds. Plus, it is thoughtfully located opposite the controversial cake-shaped Palace of Culture and Science, Poland's tallest building, which acts as a beacon to point your way home, if you've enjoyed one vodka too many.
Guided Culinary Tour:
If you'd like to delve deeper into the culinary offerings of Warsaw  then I highly recommend Poland Culinary Vacations "A Three-Day Culinary Adventure Around Warsaw". The highly capable, charming founder and President of Poland Culinary Vacations, Malgorzata (Sarna) Rose, knows everything about Polish food–including access to the best restaurants, chefs, cooking classes, markets, farms, specialty food producers, etc. Check out the website for more details about Warsaw and other tempting cooking tours throughout Poland. She's working on a new spa tour (complete with slow food cuisine) for 2012 that has my name written all over it!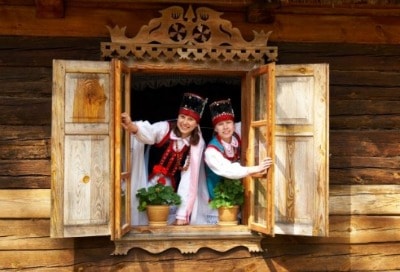 Getting There:
Lot Polish Airways has nonstop flights from Kennedy Airport to Warsaw.