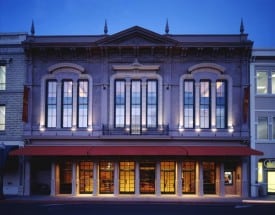 Contemplating that next perfect Napa pairing? How about a stimulating talk or two? We just found out that TEDx — a community-driven version of the TED experience — is coming to Napa.
The afternoon, scheduled for September 11, features stimulating talks, inspiring ideas and "shake your booty" music in the historic surroundings of the Napa Valley Opera House in Downtown Napa.
Confirmed speakers include Tim Jahingen, Co-inventor of the One World Futbol; Ed Matovcik, President of Intervine and an animal advocate; Mark Brewer, Principal of Napa County's newest high school, American Canyon High School; Nicolette Hahn Niman, Attorney and livestock rancher of Niman Ranch; Geni Whitehouse, Founder of Even a Nerd Can Be Heard; Robert Romano, BookheadEd founder & CEO and creator of StudySync.
TEDx was created in the spirit of TED's mission, "ideas worth spreading."
The program is designed to give communities, organizations and individuals the opportunity to stimulate dialogue through TED-like experiences at the local level.
TEDx Napa Valley

September 11, 2011

A fall afternoon filled with live performances and TED speaker videos at the Napa Valley Opera House. Mingle with other guests during intermission with snacks then have the opportunity to meet the speakers during our after program wine tasting and food sampling.

Napa Valley Opera House – 1030 Main St., Napa, 94559, California

More information: tedxnapavalley.com