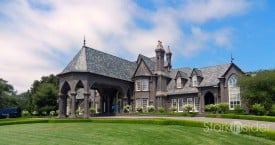 Driving through Sonoma at various time, I always noticed the imposing French Normandy influenced estate home nestled in the Kenwood foothills. The acres of vineyards surrounding the estate as well as the presence of other wineries in the area convinced me that I should investigate it someday. Little did I know that I'd one day be invited to a special private tasting on one of the many upper floor balconies.
As those stories go, a friend of a friend just happened to be a friend of Steve Ledson. Thus on a sunny weekend in July we found ourselves driving Sonoma's back roads to our Kenwood destination, The Ledson "Castle," as many people in the area call it. Reading the history of the Ledson family helps one appreciate the estate, the way the grounds are kept and the meticulous craftsmanship of the house.
As we walked the semi-circular drive expectations were high as I'd never tasted a Ledson wine. The front desk greeted us and upon learning the name of our reservation, the ornate rope baring entrance to the second floor was lowered and we were escorted to a delightful balcony overlooking the gardens and more vineyards.
After introductions, our host asked about our knowledge of Ledson and wine in general. We then began a journey through the various Leson production which we were able to follow on a printed "menu" which had been customized for our visit.
First came a 2009 Russian River Sauvignon Blanc ($26). I've developed a liking for Sauvignon Blanc over the last couple of years and this one was wonderful. As the winemaker describes it you are presented with an aroma of pears, white peaches and lime leaves. It has a rich mouth feel and is bright with fruit finishing soft with a lingering pineapple finish.
Next a 2009 Russian River Pinot Noir ($60). This one was a 2010 World Wine Championships Gold Medal winner. Its aroma provides plum, brown sugar, rose petal and tea. The initial taste is ripe strawberries with a hint of thyme and pomegranate finishing with a touch of cigar and vanilla.
The 2008 Knights Valley Sangiovese ($40) followed. With an aroma of passion fruit, it leaves a bit of spice when tasted finishing with the taste of dark chocolate. A 2006 Sonoma Valley Estate Merlot Reserve that smelled of raspberries but tasted like dark chocolate with a hint of vanilla. The 2007 Sonoma Valley 'Ancient Vine' Zinfandel that came next was excellent. It had subtle spices and finished with cocoa and chocolate.
Next, another award winner, the 2007 Sonoma County Cepage ($42) (95 Point Gold Medal). The nose is filled with cherries, boysenberries, vanilla and cedar with a taste like earthy black cherries. We thought we'd finish with the 2006 Knights Valley Cabernet Sauvignon Reserve with its chocolate raspberry nose and chocolate taste but were pleasantly surprised with barrel samples of the unreleased 2009 Ancient Vine Zinfandel Reserve and the 2009 Knights Valley Cabernet Sauvignon Reserve.
Needless to say, besides all of the other selections that made it to our cellar, a case of the 2009 Ancient Vine Zinfandel Reserve futures is safely on order. As we drove off we reflected what a wonderful way this had been to spend a sunny afternoon in picturesque Sonoma.
We look forward to returning again soon but especially for the release of the 2009 Ancient Vine Zinfandel next year.