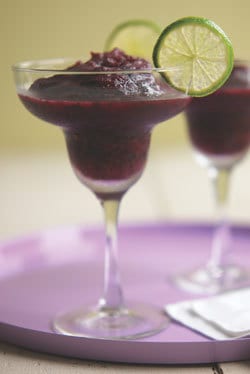 Hot summer days by the pool call for a refreshing, cold drink — but you also want to look good in your swimsuit! Adding empty calories to your diet with alcohol-filled drinks that contain calorie-heavy fillers can cause major bloating… so what's a person to do?
Simple: adopt one of Healthy Chef Devin Alexander's (an expert from Dr. Drew's Lifechangers) tips, "Never deprive yourself!"
Whether you're sipping on a margarita, socializing over sangria or entertaining with mojitos, make sure to replace high-calorie drink sweeteners that often lurk in cocktails and blended drinks with fresh fruit. Use blueberries, grapes and other fruits that ripen in the summer to make your drinks affordable and fresh.
Making your drinks heavy on the fruit and light on the simple syrups also packs your beverages with tons of vitamins and fiber, instead of just quaffing alcohol and pure sugar.
Frozen Blueberry Margarita
3 cups frozen blueberries
1/2 cup gold or silver tequila
1/2 cup freshly squeezed lemon juice
1/4 cup freshly squeezed lime juice
1/4 cup light agave nectar
24 ice cubes
4 lime wedges for garnish (optional)
– Makes 4 (12-ounce) glasses with only 188 calories per glass
Take the triple sec out of the margarita but leave the flavor in this frosty Mexican refreshment. In addition to blueberries, use agave nectar for a natural, subtle sweetness. Agave is low on the glycemic index so you won't just be spiking your blood sugar, leaving you hungry, cranky and tired later on.