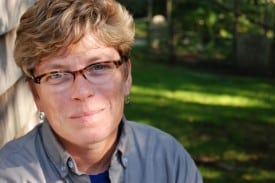 Magic Theatre opens its 2011-12 season with a legacy revival of the 1993 hit, Why We Have A Body by playwright Claire Chafee.
Back in '93 the play ran for six months to sold out houses and went on to be produced Off-Broadway at the Judith Anderson Theatre by The Women's Project. It has gone on to play in numerous theatres around the country including Los Angeles, Seattle, Boston, Minneapolis, Dallas, Chicago, Florida and South Carolina as well as in Vancouver, Canada and Perth, Australia. According to the playhouse, Why We Have A Body is one of the longest running plays in their history.
Directing Why We Have A Body is critically acclaimed director Katie Pearl. Ms. Pearl has directed and performed in projects across the country including a recent durational performance installation How to Build a Forest, presented by The Kitchen, in collaboration with New Orleans artist Shawn Hall. Past projects include NITA & ZITA (OBIE award 2003), SLABBER, BIRD EYE BLUE PRINT, THE CATARACT, AND ANNA BELLA EEMA. Katie is a MAP and Creative Capital funded artist, a member of SDC, a Drama League Directing Fellow, and remains a proud member of the new works theater community of Austin, TX.
Why We Have A Body centers around Lili, (played by Lauren English) a lesbian P.I. who stalks men cheating on their wives. When she's not channeling Joan of Arc, Lili's sister Mary (played by Maggie Mason) holds up a 7-Eleven and directs traffic. Their mother Eleanor, (played by Lorri Holt) an archeologist, specializes in—what else? —the female brain. As remarkable and resonant as the day it first opened in '93, Why We Have A Body's sharp hilarity and poetic dialogue speaks to the very essence of human nature and to the complexity of relationships in all the different forms they take.
Playwright Chafee has an impressive resume. Her other plays include Even Among These Rocks, also produced at The Magic, Darwin's Finches, produced by Encore Theatre at The Thick House, Five Women on a Hill In Spain at the Minneapolis Fringe Festival and The Greene Theatre, Emerson, Boston and Whisper from the Book of Etiquette at New Georges, the Bay Area Playwrights Festival and New York Stage and Screen at Vassar. Her awards include a Drama-League Award, the Bay Area Theatre Critics Circle Award, a Princess Grace Special Projects Award, and the Oppenheimer Award from New York Newsday for Best Emerging Playwright. She is a member of The Dramatists Guild, and holds an MFA from Brown University and an EdM in arts education from Harvard University. She teaches graduate creative writing at California College of the Arts (CCA).
"We couldn't be more elated to have Claire back with us," said Artistic Director Loretta Greco. "This season (as part of a salute to our upcoming 45th year) we wanted to present one legacy play that had a tremendous impact on our audiences at Magic Theatre in the past and that continues to speak to the nature of our San Francisco community today. Of course it was a very tough decision but we chose to start with Why We Have A Body. Claire's writing is as touching and urgent now as it was in 1993, and is unique in its ability to transcend the confines of the era in which it was written. We couldn't miss the opportunity to share this with our audiences now in celebration of Magic Theatre's legacy and are delighted to be revisiting this momentous piece of theatre."
Why We Have A Body

August 31 thru October 2

Previews begin Wed. August 31 8PM
Opening Night Tues. September 6 7PM

Tickets $30-$75