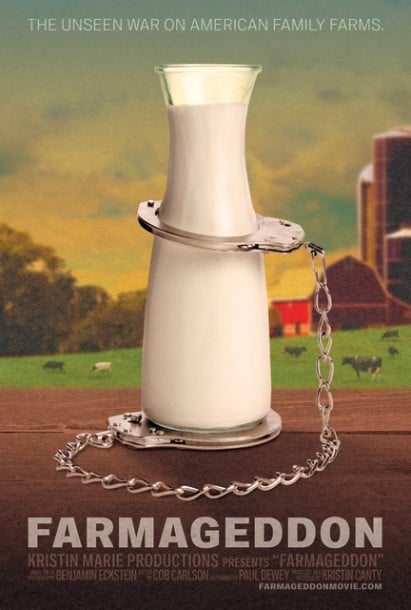 Americans' right to access fresh, healthy foods of their choice is under attack. Farmageddon tells the story of small family farms that were providing safe, healthy foods to their communities and were forced to stop—sometimes through violent action—by misguided government bureaucrats, and seeks to figure out why. The film opens 9/23 at the Roxie in San Francisco.
Filmmaker Kristin Canty's quest to find healthy food for her four children turned into an journey to discover why access to these foods was being threatened.
What she found were policies that favor agribusiness and factory farms over small family-operated farms selling fresh foods to their communities. Instead of focusing on the source of food safety problems (the industrial food chain being the main culprit), policymakers and regulators implement and enforce solutions that target small farms and often drive them out of business. Even though small independent farms have proven themselves more than able of producing safe, healthy food, they still buckle under the crushing weight of government regulations and excessive enforcement actions.
According to organizers, Farmageddon wants to highlight the urgency in encouraging farmers and consumers alike to take action and preserve individual rights to access the foods of their choice. The film also seeks to make policymakers and regulators aware that there is a growing movement of people conscious about the fact that their freedom to choose the foods they want is in danger.
Canty's film shows us a movement that is taking action with its dollars and its voting power to protect and preserve the dwindling number of family farms that are struggling to survive.
Farmageddon – Movie Trailer
FARMAGEDDON

88 minutes

Directed by Kristin Canty

Opens September 23

Roxie Theater in San Francisco

farmageddonmovie.com