San Francisco Cocktail Week, a weeklong celebration of the Bay Area's liquid culture, cocktail heritage, bar talent and industry, announced its first schedule of main events for September 19-25, 2011, plus a special CUESA Farmer's Market Happy Hour SF Cocktail Week Preview Night on August 24.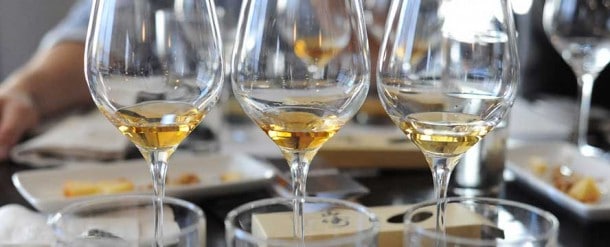 "We've grown, the culture has grown and the momentum has grown since our first-ever Cocktail Week in 2007," said H. Joseph Ehrmann, co-founder of San Francisco Cocktail Week and president of the Barbary Coast Conservancy of the American Cocktail. "For our fifth annual celebration we have engaged a broad team of professionals to make our little fête even better. We'll promote the talents of the bartenders that have honed their skills and become shining new stars, while we honor the leaders that have gotten us here. An array of venues, bars and restaurants are embracing the energy with grand cocktail parties, dinners, seminars and, of course, the requisite amount of revelry."
Equal parts soiree and symposium, shaken with a lot of fun and presented by the non-profit Barbary Coast Conservancy of the American Cocktail (BCCAC), San Francisco Cocktail Week events will be held in venues, bars and restaurants throughout the Bay Area. Additional Main Events, Seminars and Cocktail Dinners will be announced in the coming weeks.
Tickets are now on sale for the fifth annual event, which has set a new bar both in its scope of events and its record number of spirit and media partners.
SF COCKTAIL WEEK

CUESA FARMER'S MARKET HAPPY HOUR – SF COCKTAIL WEEK PREVIEW NIGHT
Wednesday, August 24
5:30 to 8 p.m.
Location: San Francisco Ferry Building
Tickets: $45 (available through CUESA)

Produced in partnership with the Center for Urban Education about Sustainable Agriculture (CUESA), this happy hour, walk-around tasting of farmers market cocktails has been one of the most successful and lasting programs of SF Cocktail Week. This year the event is also a special Preview Party for many of the seminars, soirees and cocktail dinners slated for mid-September. Attendees will enjoy two full-sized signature drinks crafted with late summer produce (think peaches, plums, pluots, blackberries, heirloom apples and tomatoes, peppers, fennel and more) as well as tasting 14 sample-sized cocktails, while talking with more than 20 of the Bay Area's best bartenders who are behind the programs and parties of SF Cocktail Week. Small bites are provided from local restaurants. Guests are encouraged to vote for their favorite drinks, and five names will be selected from the votes to win advance tickets to SF Cocktail Week's opening night party. Proceeds support CUESA's Schoolyard to Market program, a youth entrepreneurship project in which students grow produce in local high school gardens and sell it at the Ferry Plaza Farmers Market.

BAR CRAWL WITH CHARBAY AND THE PERFECT PUREE OF NAPA VALLEY
Monday, September 19
5 to 8 p.m.
Location: Rye, Cantina, Otis Lounge, Rickhouse (Union Square area, San Francisco)
Tickets: $35 (through Aug. 31); $45 regular, $55 at the door (maximum of 30 tickets available)

Kick-off San Francisco Cocktail week in style with a lively bar crawl through the City's Downtown District. Pamper your pallets with your hosts: Napa Valley's Charbay Distilleryand The Perfect Purée. Indulge in delectable small bites and libations created by some of the best cocktail bars in the area, starting with Rye (688 Geary), followed by Cantina (580 Sutter St.) and Otis Lounge (25 Maiden Lane). Then close it down as we visit our final stop, Rickhouse (246 Kearny), for one last cocktail, one last story and live music. Additional bars may be added, and each 30-minute stop includes a full cocktail.

OPENING NIGHT PARTY: AROUND THE WORLD WITH ANCHOR
Monday, September 19
6 to 9 p.m.
Location: Anchor Brewing Company (1705 Mariposa St., San Francisco)
Tickets: $35 (through Aug. 31); $45 regular; $55 at the door

Experience the diverse and artisanal line of spirits and liqueurs brought to you by Anchor Distilling Company, shaken and stirred by San Francisco's top mixologists. The Anchor portfolio consists of some of the finest collection of spirits from around the world. All products are from family-owned companies (most of which are multigenerational) and are sought by enthusiasts for their superior handcrafted artisanal qualities. Don't miss the opportunity to learn the history and heritage of The Anchor Distilling Company portfolio directly from the Anchor Distillers, David King (President of Anchor Distilling) and Henry Preiss (Founder, Preiss Imports). Join us as we bring you a Global cocktail experience, paired with delicious bites to match.

SHAKER & FLASK
Wednesday, September 21
6 to 9 p.m.
Location: Big Daddy's Antiques (1550 17th St., San Francisco)
Tickets: $55 (through Aug. 31); $65 regular; $75 at the door

Join us for an evening of molecular gastronomy meets mixology in an event that showcases the science behind cocktails. Produced by San Francisco Cocktail Week in collaboration with Cocktail Lab, this event will be dedicated to the geekier, scientific side of cocktails, with guest bartenders who specialize in molecular mixology. Era-specific scientific equipment from decades past will be on display as bartenders show off their skills with techniques including using liquid nitrogen to craft the perfect cocktail, pressure-infused botanical vodkas, frozen cocktail popsicles and herb-infused raw egg white fizzes. Guests will be able to visit a variety of cocktail stations to interact with the "experiments" and sample the libations. A portion of the proceeds will be donated to SF Cocktail Week's community partner, the Exploratorium, for their educational programs.

EAST BAY SHOWDOWN
Thursday, September 22
6 to 9 p.m.
Location: Tessera (1225 A 7th St., Oakland)
Tickets: $45 (through Aug. 31); $55 regular; $65 at the door

Produced in partnership with the U.S. Bartenders' Guild, this event collects the best mixologists from the East Bay, who will face off to create the tastiest cocktails at their bar for the month of September. Guests can taste and place their votes at each participating bar and then join the finale party to sample an array of creations for the ultimate cocktail showdown! A portion of the proceeds will also be donated to East Bay charities, such as East Bay SPCA, Oakland Community Pools Project, ALS Therapy Development Institute and the Women's Initative. The special SF Cocktail Week menu will be available in all of the participating bars the month of September, including Acme Bar & Co., Hotsy Totsy Club, Adesso, Dogwood, Easy Lounge, Bar 355, Flora and Radio.

BEST OF THE WEST
Thursday, September 22
6 to 9 p.m.
Location: The Forum at Yerba Buena Center for the Arts (701 Mission Street,San Francisco)
Tickets: $45 (through Aug. 31); $55 regular; $65 at the door

With guest bartenders from San Diego to Vancouver, this cocktail tour will showcase the mixology talents of bartenders across the West Coast. Showing guests the "best of the West," each guest participant will offer a cocktail that uniquely represents their city and its cocktail culture — be it San Diego, Los Angeles, Las Vegas, Portland, Seattle or Vancouver — and compete with local bartenders to create signature cocktails with mystery ingredients. Throughout the evening you'll have fun cheering on the spirited competition while rolling the dice in lively games of chance, such as blackjack, roulette and poker, with chances to win cool prizes. Take a trip without setting foot on a plane, or be inspired to book your next vacation to visit these stars in their hometowns. A portion of the proceeds will be donated to SF Cocktail Week's community partner, Yerba Buena Center for the Arts.

BARBARY COAST BAZAAR
Friday, September 23
8 to 11 p.m.
Location: The Old Mint (88 Fifth St., at Mint Plaza, San Francisco)
Tickets: $75 (through Aug. 31); $85 regular; $95 at the door

Celebrate all things bizarre and delicious in a fantastical night of cocktails from San Francisco's best bars, passed appetizers, carnival curiosities and attractions. With entertainment that harkens back to the era of a 1920s traveling circus, the evening will include attractions such as fortune-tellers, stilt-walkers, contortionists, magicians and games in a darkly wonderful and memorable evening. Festive attire encouraged.

THE LEGENDS AWARDS
Saturday, September 24
7 to 10 p.m.
Location: Sir Francis Drake Hotel Ballroom (450 Powell St., San Francisco)
Tickets: $150 (through Aug. 31); $175 regular; $200 at the door (includes admission to Legendary After Party)

Recognizing the true innovators, influencers, mentors and historians in the Bay Area, the first annual Legends Awards will pay tribute to bar professionals who have truly raised the bar. In this feast for the senses, guests will enjoy a plated dinner by Executive Chef Jennifer Biesty, tableside cocktails paired to each course by the City's best bartenders, and performances by an array of sultry burlesque dancers. Who will win the Lifetime Achievement Award? Or the Renegade Award? Six of the Bay Area's best bar professionals will be honored for the roles they have played in San Francisco's, and ultimately, the world's, cocktail culture. Black tie optional.

ST. GEORGE SPIRITS BATHTUB GIN BBQ
Sunday, September 25
4 to 7 p.m.
Location: St. George Spirits (2601 Monarch St., Alameda)
Tickets: $25 (through Aug. 31); $35 regular; $45 at the door (food is not included but available for purchase at the event)
Round-trip chartered bus transportation from West Oakland BART station to St. George Spirits is available for $10 per person.

Join us in saying "St. George, take me away!" Then leave behind your cares and set sail across the Bay for a relaxing bathtub gin party under the sun. Alameda's own St. George Spirits is recapping last year's ultra-chill Cocktail Week BBQ with another round of outdoor fun. Sunshine, three new St. George gins and a view across the shining bay over San Francisco await, so come as you are — shipshape or hungover, in your three-piece suit or bathing suit — and enjoy a lazy Sunday afternoon relaxing among friends.