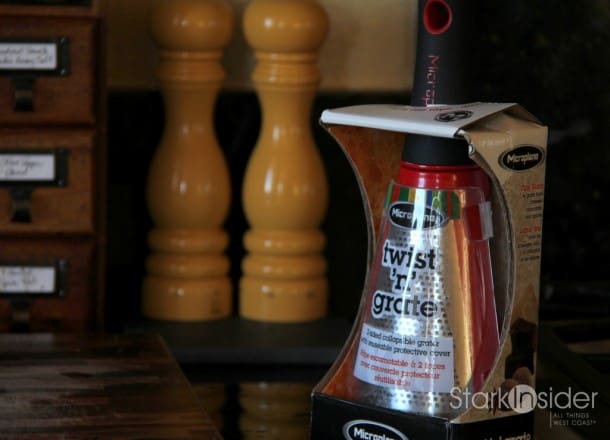 Before I give you the Stark Insider take on one of the latest incarnations of the beloved grater, Microplane's "Twist N Grate" ($19.95), I thought it would be good to recap how the grater earned its coveted spot as an essential kitchen utensil.
The grater has come a long way since its original invention in the 1540s by Francois Boullier in France. Originally, the grater, made out of pewter, was the solution to a cheese surplus created when farmers rushed to transform their herd to dairy during the post-Enlightenment "no meat" era. The grater made the hard cheeses, like Parmesan, consumable as a table condiment. It fell out of favor about a decade later when cheese became a luxury product during the drought in 1555.
Ironically, hundreds of years later, it was also the shortage of cheese, this time created by the economic impact of the Great Depression, that inspired Philadelphia entrepreneur Jeffrey Taylor to reintroduce Boullier's invention as a way to stretch the ingredients of a dish, thus making them "greater". Alas, modern English name, "grater" was born.
Flash forward to today's plethora of graters in all different sizes and shapes, building on the simple concept of holes punched into metal surfaces. If grater was a species, it has done mighty well co-existing with us humans.
I own at least four graters in my kitchen for cheese and lemon zest. One of my favorites is a grater on a beautiful wooden box. As you grate, the cheese falls gently into the box that can be slid out and displayed beautifully at the table for guests to use on salads and other dishes.
With this context, I look upon this Microplane. Will it earn a coveted spot in my kitchen?
At first glance, I realize that the Twist 'n' Grate solves a well-known problem in modern times. No, it is not the shortage of cheese. Instead, it is the shortage of space, kitchen space. The grater is made to collapse into a flatter form so it can easily slide into a narrow drawer. Unlike its boxy predecessors that have always been awkward to store.
The handle is rubbery, reminding me of Oxo products, which makes it comfortable to grasp. When expanded into a cone shape and placed on my kitchen counter, it is not as stable as a conventional grater. Like a conventional grater, it has different sized holes for some choice in cheese texture.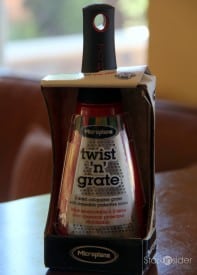 The grater was fairly easy to clean after use. There is a clear plastic cover that goes around the larger half of the grater to make it easier to handle when not in use and when twisting to expand or contract. However, I could envision the clear plastic cover being easily misplaced and lost.
The overall esthetics are okay. Nothing to fawn over. I would definitely keep this grater in a drawer when not in use. The packaging was surprising since it was very boxy and didn't highlight the key strength of this grater which is that it is slimmer than the conventional grater.
Does the Twist N Grate make it into my Californian kitchen? No, this grater is not more useful nor more beautiful than my existing graters. I do think this grater would be ideal in an outdoor BBQ kitchen or at the cottage. In fact, this grater may just find its way into my Casa del Lagarto Azul in Loreto, Baja California Sur.
P.S. I do have a Microplane Classic Original Zester in my California kitchen which I love. Pure stainless steel glory.