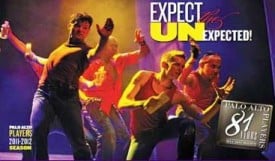 Palo Alto Players is setting the stage on the launch of its new 2011-2012 season at the Lucie Stern Theater in Palo Alto. The 81st season features six plays that will, according to the playhouse, "transform us and move us in ways the mundane never could."
Opening the season in September, Palo Alto Players has specially licensed to produce NUNSENSE WITH A TWIST! The gleeful hit musical "Nunsense" is here resurrected in a delightfully twisted new way as the Little Sisters of Hoboken try to raise money to bury their unfortunate dead.
Following in November, the stage will fill with the power and promise of PARADE as audiences bear witness to an event that changed the face of America.
Then, in the new year, Palo Alto Players is offering two plays in repertory in January and February, AFTERMATH and "GIVE 'EM HELL, HARRY".
The first is a powerful docudrama play, exploring the heart and soul of the Iraqi people and the day that changed their lives forever.
Then it's Harry S. Truman who takes the stage with his uncanny wisdom and unparalleled wit in dealing with tough times. April brings to life the inspirational and beguiling family classic, ANNIE, about a loveable red head, her new home, a mutt and a millionaire.
Palo Alto Players concludes its 81st season with the wickedly funny play THE LIEUTENANT OF INISHMORE about an Irish lieutenant who's only care in the world is his cat, a cat who has been accidently killed.
Palo Alto Players' 81st Season

Nunsense with a Twist!

By Dan Goggin
Directed By Mark Drumm
Choreographed by Alexandra Kaprielian
September 17 – October 2, 2011
(Preview on September 16th)

Palo Alto Players Delighted SRO crowds with Nunsense in 1992 and we're overjoyed to do it again when we kick off our 2011-2012 season. With special permission granted us by the show's omnipotent creator, this is Nunsense- but this time with a twist! Be prepared to spend two devilishly divine acts with the Little Sisters of Hoboken as they attempt to raise money to bury the others in the Order who were accidentally poisoned by the convent cook, Sister Julia, Child of God. This zany musical is sure to be habit forming regardless of age or religious background.

Parade

Music and Lyrics by Jason Robert Brown
Book by Alfred Uhry
Co-Conceived by Harold Prince
Directed by Dennis Lickteig
Choreographed by Jayne Zaban
Musical Directed by Matthew Mattei
November 5-20, 2011

(Preview on November 4th)

The multi-award-winning best musical is based on one of the most sensational trials of the early 20th century- a trial which pressed every hot-button issue of the time to the point of outrage and frenzy. In 1913 Atlanta, Georgia, a teenage factory employee is raped and murdered. Leo Frank, the young Jewish manager of the factory, is charged with the crime. By manipulating witnesses and tampering with evidence, the prosecution convinces the jury that Frank is guilty and powerful, unforgettable evening of theatre is born.

Aftermath

By Jessica Blank and Erik Jensen
Directed by Lennon Smith
January 14-22, 2012
(Preview on January 13th)

March 20, 2003. A date that ordinary people of Iraq will never forget: the day the Americans arrived in their homeland. Playwrights Jessica Blank and Erik Jensen traveled to the Middle East in June 2008 to find out first-hand what happened to the Iraqi civilians as a result of events that began on that fateful day. They interviewed some 35 people- a cross-section of lives interrupted- who fled the chaos and violence that befell Iraqi society for the relative safety of Amman, Jordan. These Iraqis left everything behind- except their stories.

Give 'Em Hell, Harry"

By Samuel Gallu
Directed by Marilyn Langbehn
January 28-February 5, 2012
(Preview on January 27th)

If you are having a hard time remembering when politicians took responsibility for their actions, meet Harry S. Truman, the 33rd President of the United States who steered this nation from wartime to peace and prosperity. This one-man show reveals Truman's down-to-earth character and head-on approach to tough issues- each brimming with a folksy humor from the Heartland. In our era of spinmeisters, focus groups, sound bites and special interests, and evening spent with this Man from Missouri will be so utterly refreshing-and rare- that you won't want it to end!

Annie

Book by Thomas Meehan
Music by Charles Strouse
Lyrics by Martin Charnin
Directed and Choreographed by Jeanne Batacan-Harper
Musical Direction by Matthew Mattei
April 28 – May 13, 2012
(Preview on April 27th)

Leapin' Lizards! It's our revival of the heartwarming family classic and one of the world's best-loved musicals. Annie—that spunky Depression-era orphan determined to find her parents after being abandoned years ago on the doorstep of a New York City Orphanage —finds adventure after fun-filled adventure. Laugh and cheer as Annie foils Miss Hannigan's evil machinations, befriends Franklin Delano Roosevelt and finds a brand new home with a millionaire and mutt—a home where you're never fully dressed without a smile!

The Lieutenant of Inishmore

By Martin McDonagh
Directed by Michael Champlin
June 16 – July 1, 2012
(Preview on June 15th)

On a lonely road on the island of Inishmore, someone killed "Mad Padraic's" cat. Padraic, a first lieutenant in the Irish National Liberation Army to whom nothing is sacred except "Wee Thomas", will want to know who when he gets back from a stint of torture and bombing. He loves his cat more than life itself, and someone is going to pay. The Lieutenant of Inishmore charts new ground in play-making as it combines the comic precision of a Feydeau farce with the unapologetic horror of a Tarantino flick. The result is wickedly hilarious and not-to-be-missed!