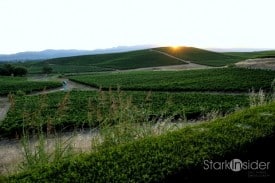 It's that most (other) wonderful time of year. The Napa Valley Vintners (NVV) has announced that the annual wine grape harvest has begun in the Napa Valley.
The first grapes to come from the vineyards to the wineries were those picked for sparkling wine production. Selected sites in the Carneros District at the cooler southern end of the appellation were the first to be harvested for producers including Schramsberg Vineyards, Mumm Napa Valley and Domaine Chandon.
Vineyards in the Oak Knoll District began yesterday for the same producers.
Most of the grapes harvested for sparkling wine are Chardonnay and Pinot Noir, the same varieties that would produce still wines known by these varietal names. Grapes for sparkling wine are picked at lower degrees Brix, or lower sugar, to provide crisp acidity and to allow for the fermentation process that creates sparkling wine.
"The harvest for sparkling wine is coming in about two weeks later than average due to the cool growing season this year in our region. Bloom and fruit set were behind normal and the season has progressed with that two week lag throughout," said Hugh Davies, owner of Schramsberg Vineyards.
"The tonnage is down across the valley due to late rain at the time the fruit was in its infancy, but the quality is terrific from what we are seeing coming into the winery," said Keith Hock Schramsberg's winemaker.
Bruce Cakebread of Cakebread Cellars was delighted to see his neighbors beginning harvest. He looks to begin picking Sauvignon Blanc later this week and said, "The consumer doesn't care that the tonnage is down over one year or another, the consumer only cares about the quality and the 2011 crop is looking phenomenal across the board, I'm really excited."
Interesting Napa Valley facts:

— Just 4 percent of California's wine grape harvest is from the Napa Valley

— 95 percent of Napa Valley's wineries are small, family-owned enterprises

— 2011 continues a decade-long trend of cool growing seasons with later harvest