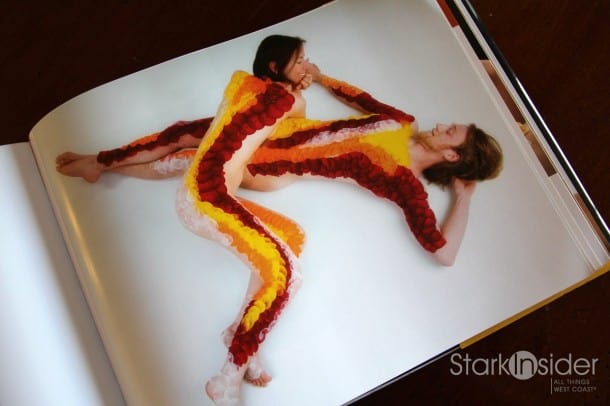 "Food is sensual, and La Figa is a feast for the senses. We build our bodies from nature, and it is only natural that the human form bonds with forms of food to build an erotic and tasty feast!" — Tom Douglas, chef, restaurateur, and author.
We receive all sorts of books to review/feature on Stark Insider. But this one may just be the most "unique".
The photography art book, La Figa ("beautiful, sexy woman"), is based on a project that began in 2006 by photographer Matt Freedman (Seattle) and Chef Tiberio Simone (Native Italian). After showing early photos to friends and others, a lot of questions were asked — people were curious about Tiberio's philosophy around food, touch, and sensuality. It was this intriguing intersection of food and sex that prompted them to continue their mission, and in 2011 the vision came to fruition.
Whether or not the idea of mixing raspberries with butt shots, no matter how artful, whets your appetite is surely a matter of personal preference. But it does make you stare, contemplate. There is a combination of high quality, artistic photos, stories, anecdotes, and even recipes in this intimate 192-page, hardcover journey.
"WHEN A LOVER AND I decided to take our relationship in a different direction and just be good friends, we parted in the most delicious manner…"
Food and sex… a good idea? What do you think?
For more photos from the book LA FIGA, visit the SI Facebook Page. A full review coming soon… now where are those blueberries…
Buon Appetito!