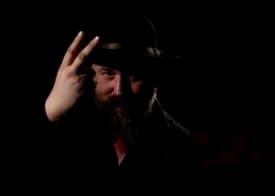 Director Patrick Meaney announced at the San Diego International Comic Con that his new film, Capturing Ghosts, will premiere at the Napa Valley Film Festival in November.
Starring the popular graphic novelist, television writer and futurist Warren Ellis, the documentary takes a look into the mind of this creator of cult comic classics Nextwave, FreakAngels and RED, the graphic novel about a retired CIA agent which was adapted last year into a film starring Bruce Willis.
"Napa Valley Film Festival looks like one of the most exciting film events of the year," says Meaney. "And I'm thrilled that Captured Ghosts is a part of the inaugural festival."
The film also stars Academy Award-winner Helen Mirren (The Queen), Joss Whedon (director upcoming The Avengers), Will Wheaton (Star Trek), Brea Grant(Heroes, Dexter), and Patton Oswalt (Ratatouille).
From a report on the announcement by Comic Book Resources:
"Captured Ghosts," as represented by the clips shown, leans heavily toward Ellis' comics work and away from his writing for television and film adaptations. The next clip shown centered on "Transmetropolitan," perhaps Ellis' most notable and trenchant work. As most fans know, "Transmetropolitan" was a long-running Vertigo comic series about Spider Jerusalem, a journalist in a future that is both gritty and too bright. It was with this mouthpiece that Ellis could espouse many of his views, and it was through this series that Ellis connected with a large audience, creating a work that is still relevant today. Ellis said he wrote issue #8 in 24 hours. Artist Darick Robertson said in the film that that was what he felt was the most important issue of the series
For more on the Napa Valley Film Festival, including interviews, stories, and videos, click here for the SI NVFF coverage.
TRAILER: Capturing Ghosts