Guest post by Bob Jamison.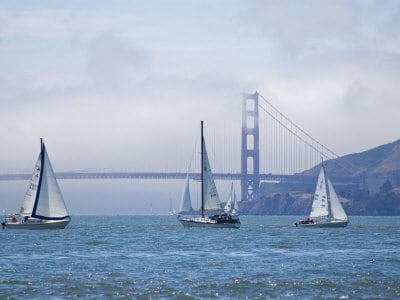 Ever wake up on a Saturday morning, look outside, smell the fresh air, then decide you need to do something fun and outdoors to take advantage of the beautiful day? Next time you should consider Sailing!
One of the best features of the Bay Area are the beautiful, and often under-appreciated, San Francisco Bay and Monterey Bay waters. There is no better way to appreciate all of nature's water wonders than a day out sailing on the bay.
Most people often wait for the opportunity to arise where a friend or coworker invites them to go sailing, but why wait for the invite? Make it happen. Get out on the water and, see the otters, seals, and dolphins up close and personal. Maybe you'll get lucky and come across some whales since they will be migrating back North from Mexico soon.
Setting sail is easier than you might think.
There are several sailing companies that allow you to book a skippered charter for a full day, half day or for a couple of hours, such as Pacific Yachting and Sailing in Santa Cruz (www.pacificsail.com) or Monterey Bay Sailing in Monterey (www.montereysailing.com). The boats will often fit up to 6-8 people and the skipper will let you get hands on and take the helm or try your arm at the ropes. Many are kid friendly as well. Prices start at $300 for a chartered boat with a skipper.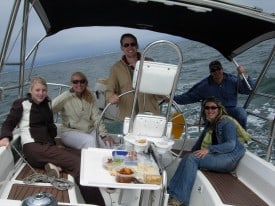 If you are looking for a good operation in the San Francisco area try OCSC Sailing (ocscsailing.com) and they also offer an Introduction to Sailing class for only $40. If sailing is your thing and you want to gain more experience at it, these same sailing companies also offer classes to become ASA certified so you can charter your own bareboat with friends and family.
If cost is a factor for a day out on the water, there are a few charter companies like the Chardonnay in Santa Cruz where you can take a nice sail with food and drinks included for only about $50/pp. (www.chardonnay.com)