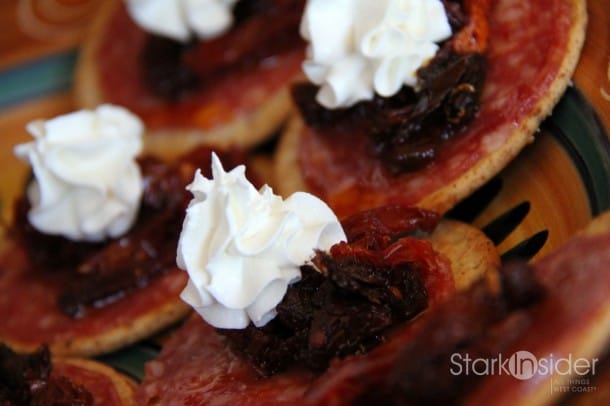 With fall around the corner, it's the perfect time to ramp up the summer BBQ parties and enjoy the warm weather while its here. My recipe for "Sunshine in a Bite" sundried tomatoes and salami crackers will hold your hamburger and corn-on-the-cob loving guests at bay while you grill up a storm.
I love this recipe because it is easy to make, looks fabulous, and the saltiness of the salami paired with the sweetness of the sundried tomatoes is delight for the taste buds. The slight tartness of the sundried tomatoes also provides a nice contrast to the flavorful fatiness of the salami.
Here's the scoop on how to make my "Sunshine in a Bite".
1. Take a cracker that has a lot of crunch in it but not too much flavor or butter in it. A water cracker is perfect.
2. Set a thin slice of Italian salami on top. It is nice if the diameter of the cracker is just slightly larger than the diameter of the salami to give a nice layered visual effect.
3. Place a few pieces of julienned sundried tomatoes on the crackers. How much you put on is up to you, but I would recommend to exercise some restraint. You want sunshine in the bite, not a blazing hot day :-). The key to this recipe is balance between the saltiness and sweetness so you don't want either salami or sundried tomatoes to overpower.
4. Decorate with a dollop of soft cream cheese. Here you can either create a dollop with a spoon or get a little fancier and break out the cake decorating kit to create a more structured "dollop."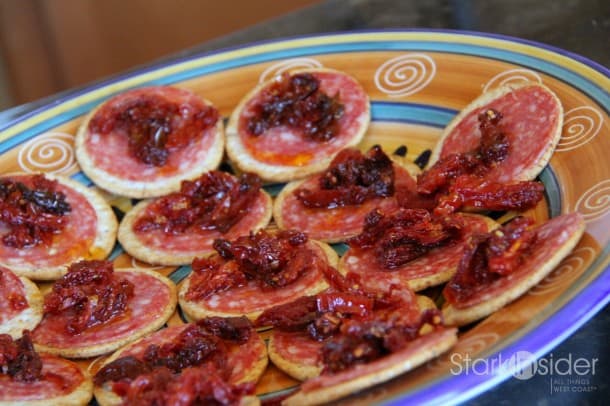 There you have it, a simple recipe that you can whip up in no time. I like to pair this with a Rosé, but Clint, our Stark Insider wine guy may have other ideas!
Vegetarian or simply want a variation? Try this with asiago cheese instead of the salami. You can also experiment with the sundried tomatoes. Instead, try some fig jam. The secret is to have something salty paired with something sweet on a nice cracker base.
Hoping your next party is full of friends, family, laughter … and bites of sunshine!
Like this recipe? Subscribe to the free Stark Insider Weekend Edition newsletter.